Local business owners Clint Machamer of Creative Crepes and Richard McCord of Marrow Private Chefs have joined forces to create 30A Quarantine Kitchen, a new grab-and-go eatery and delivery service located at 10343 E County Hwy 30A. The innovative concept opened its doors on Monday, April 20 and will be open seven days a week from 11 a.m. – 8 p.m. or until they sell out.
Machamer originally intended to open Creative Crepes' first brick and mortar location in Peddler's Pavilion in Seacrest Beach after operating out of a food truck for many years. However, due to the spread of COVID-19 and the heightened precautions that are being taken across the country, he decided that the space would be better used for a local grab-and-go eatery that also offers contact-free delivery. With a vision in mind, Machamer partnered with long-time friend Richard McCord of Marrow Private Chefs to bring this concept to life and create a menu that combined both of their culinary skills.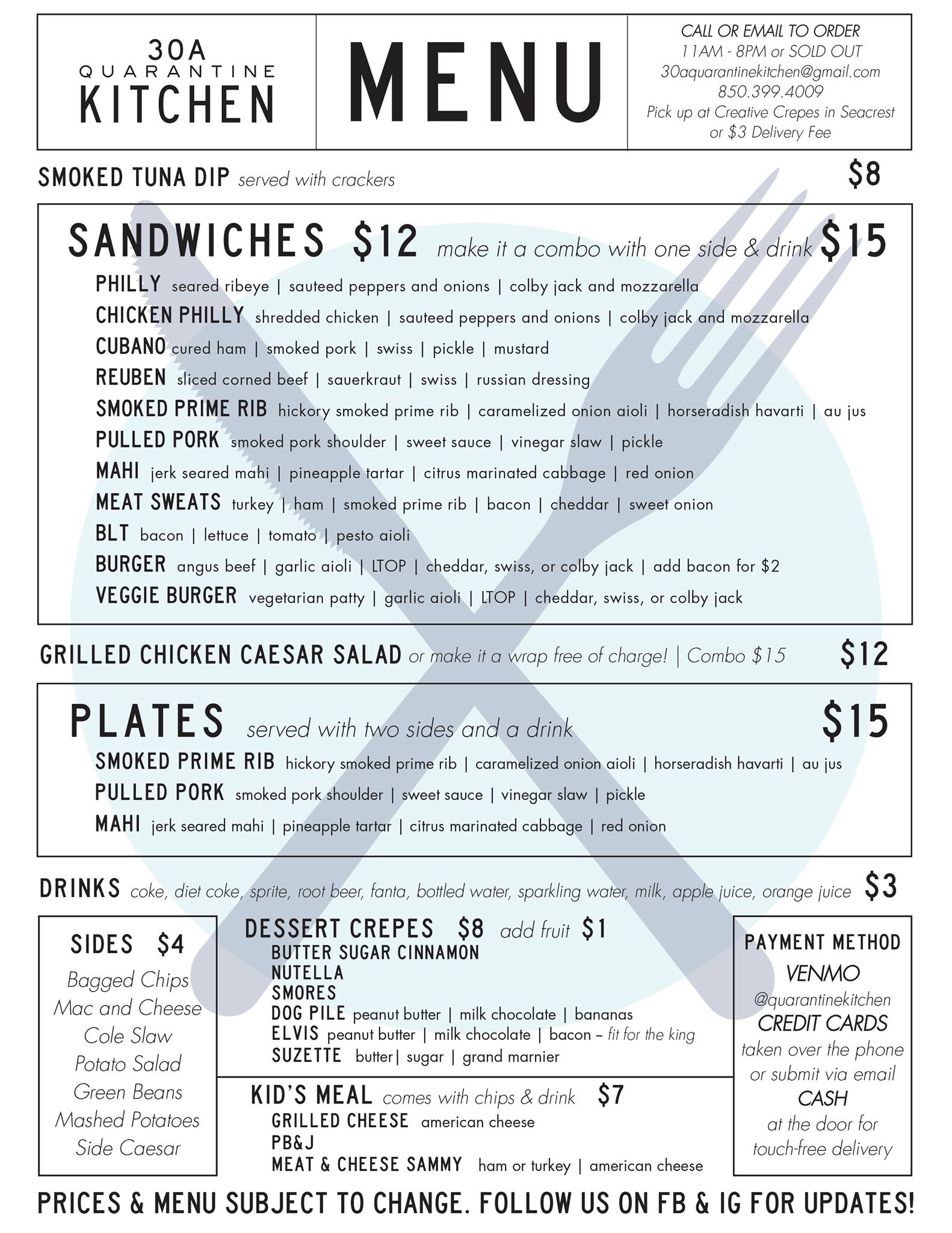 "I'm excited to get back in the kitchen while partnering with good friends to keep our businesses open during this tough time. We're happy to be able to offer a fresh new menu to our friends in South Walton," says McCord.
The 30A Quarantine Kitchen will offer sandwiches, salads, hot plates, kid's meals, and dessert crepes. The menu will continue to change as local ingredients become available to give customers a wide range of options and flavors. Guests can call (850) 399-4009 or email 30aquarantinekitchen@gmail.com to place an order. Payment can be made over the phone, by Venmo or cash upon delivery. Contact free pick-up is available as well as $3 delivery within a ten miles radius of Seacrest and $6 delivery fee beyond.
"I'm honored to have the ability to team up with the best in the business to bring some new and exciting food to 30A," said Machamer. "We're introducing a concept that caters to anyone, anywhere on the Emerald Coast."