Welcome to Our Office
The Proffitt PR headquarters is located in the heart of Miramar Beach, Florida just east of Destin and west of South Walton/30A. Nestled among the local eateries and boutiques of The Market Shops, an open-air lifestyle center, you'll find the Proffitt PR office decked out in our signature teal, gold and white. The open concept was thoughtfully designed by Jessica and her mother-in-law, Vicki Gordon, to foster a space that is welcoming, functional and happy! Each piece of furniture, light fixture and artwork were hand selected to create a modern workspace that is unlike any other.
As soon as you enter our door, you are greeted by the sweet smell of our burning candles, a mirror that tells you how beautiful you are as well as wet kisses from our Barketing Coordinator, Champ, Proffitt PR's goldendoodle mascot. Our mantra, "Hustling in Heels" is lit up in bright neon pink on the back wall to give the office a fun POP of color! Glance around and you'll find our walls decked out with funky art by Justin Gaffrey along with framed versions of some of our latest editorial and advertising features. Some of our favorite additional elements include the cowhide rugs from Santa Rosa Beach retailer, Cowhides & Sheepskin, the custom-built organization pieces from Proffitt Home Services, and the coastal driftwood table from LA Place. Bursts of gold, clean white desks, and handmade barn doors by our client, Chi-Mar Construction, tie in the office for a custom space that is home to a bounty of creative and hard-working women.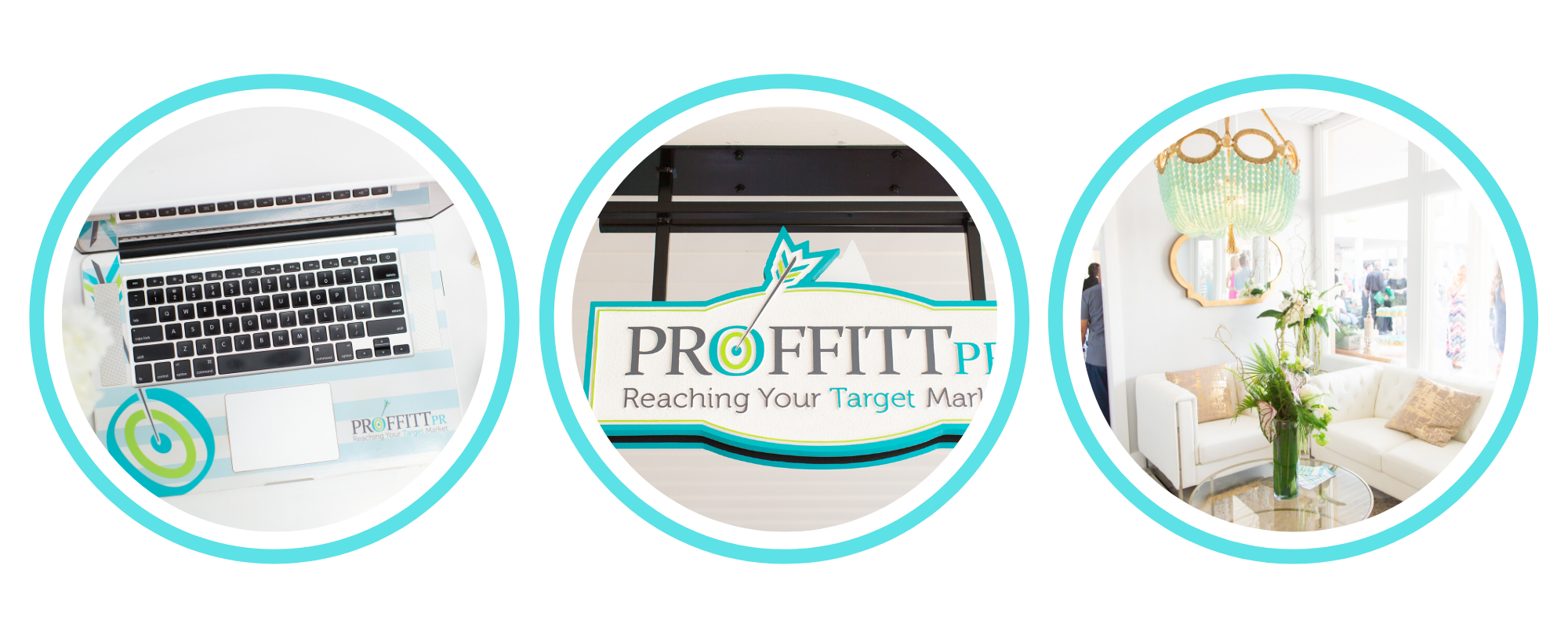 Each of our team members have their own desk and workspace that is customized as their own evoking their own personal style and work ethic. While Taylor's desk is filled with plants and photos of her friends, family, and dogs, Lexi's desk features fresh flowers and simple gold accessories. Apart from the differing decor styles, each of our employees is able to easily communicate with one another because of the open concept and free-flowing layout. This is essential to make sure our clients are being taken care of in all facets of business.
"Being able to communicate so easily with each other helps us get things done quickly and efficiently. It also helps keep everyone on the same page and up-to-date on client happenings."
Taylor Sheekley, Marketing Manager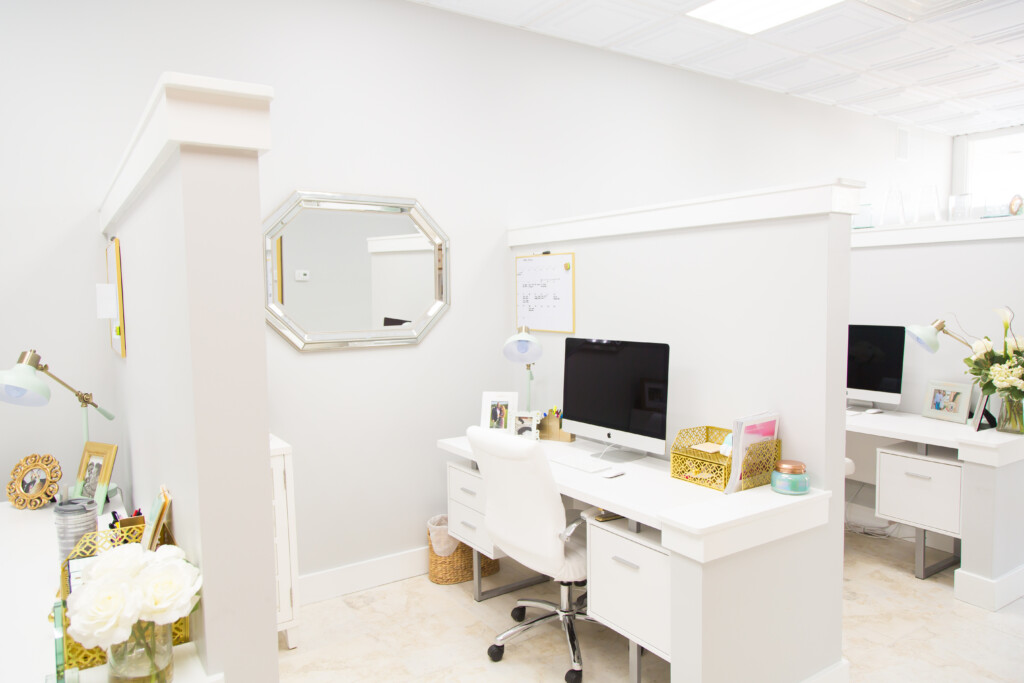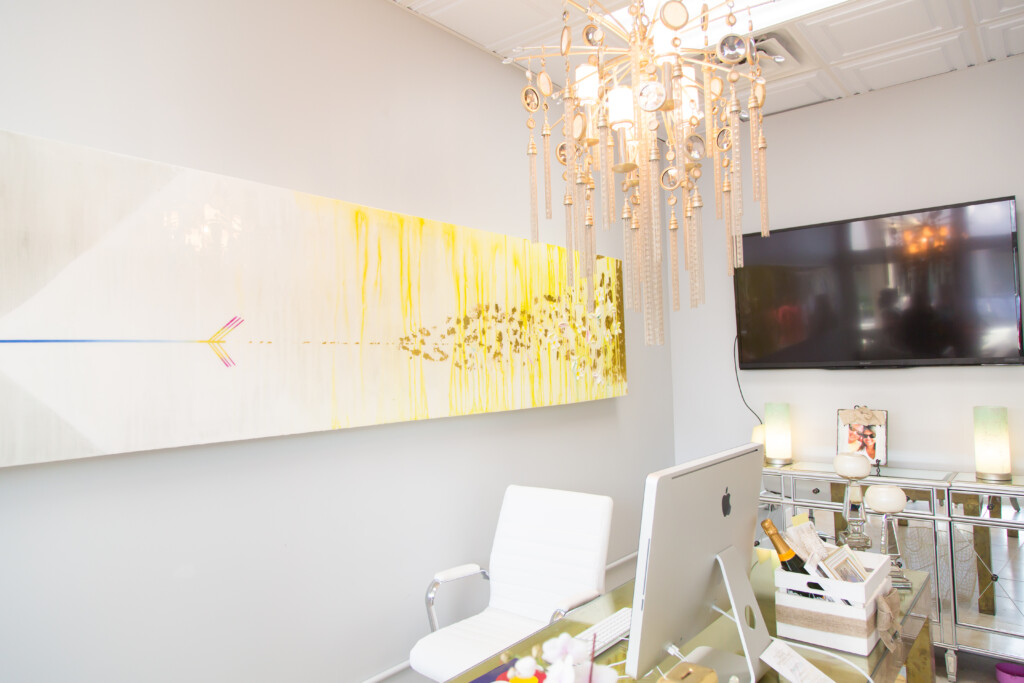 Jessica's office is headquartered at the front of the office. Her massive gold desk purchased from local retailer, Lola's on 30A centers the room and is fit for a boss babe like herself. Situated behind her is a custom piece of art created by local artist, Justin Gaffrey, and sublimely includes key elements such as an arrow which you can also find in the Proffitt PR logo. Her chandelier (along with the others) was another custom find from local retailer and dear friends at Beautiful Lights. It catches everyone's eye when they walk through the door and is the pièce de rèsistance of the entire room.
Once inside Jessica's office, you'll see walls adorned with frames of personal accolades and news features from some of our most treasured clients. These date back to when Proffitt PR was created and serves as a daily reminder for how far the company has come over the years.
Our conference room, located directly adjacent to our office, is decked out with local art from Justin Gaffrey, Sarah Stewart, and Brendan Parker. Each of these local creators have different styles and techniques, making the space truly unique.
A long table and white leather chairs center the room, creating the optimal space for all of our meetings, team pow-wows, and brainstorming sessions. Floor-to-ceiling windows line the walls, bringing in the perfect amount of sunshine. The conference room is also the epicenter for all of our event preparations. No matter how big or small, we are always planning ahead and prepping all of the supplies, materials, and necessary elements to our events well before the big day.