Back Beach Barbecue Brings Breakfast to Panama City Beach
PANAMA CITY BEACH, FL (February 26, 2018) – Back Beach Barbecue, located on Panama City Beach Parkway, announces the extension of their menu to include breakfast options for the morning barbecue enthusiast.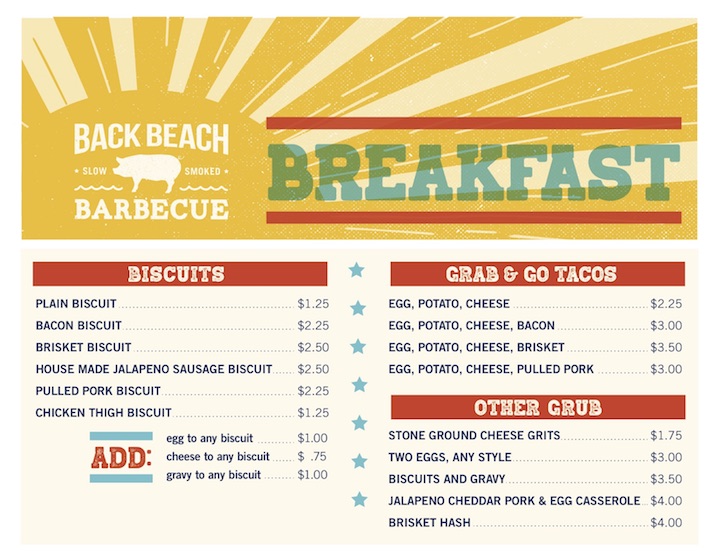 Beginning on March 5, 2018, Back Beach Barbecue will be adding a breakfast menu featuring Southern classics to start off your day. Known for their use of the famous Lang Smokers, Back Beach Barbecue will be slow smoking their meats over locally sourced oak wood to top off their breakfast dishes. Guests will be able to customize their favorite early morning items, such as the traditional biscuit, with Back Beach Barbecue's savory smoked meats, such as bacon, brisket, pulled pork, chicken thighs, or jalapeno sausage with the option to add eggs, cheese, and gravy. Another highlighted build-your-own option on the all new Back Beach Barbecue breakfast menu is the "Grab and Go" taco. These will be served with a base of eggs, potato, and cheese, with the option to add bacon, brisket, or pulled pork to complete your order.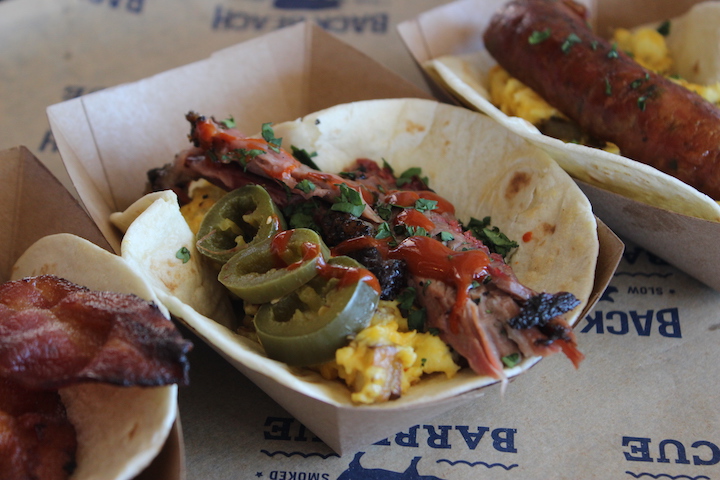 A plethora of other breakfast options, along with coffee and orange juice, will be featured on the menu, including, jalapeno cheddar pork and egg casserole, stone ground cheese grits, brisket hash, and more. Breakfast will be available from 6:30 a.m. through 10 a.m. seven days a week.
"We have seen such a success with our lunch and dinner menu that we wanted to open up the barbecue world to a quick-pickup breakfast showcasing quality smoked meats," states Back Beach Barbecue owner, Danny Cosenzi. "Our restaurant is nestled in the perfect location on Panama City Beach Parkway for those to grab a morning meal with ease on their way to work."
Back Beach Barbecue will be open seven days a week for breakfast, lunch, and dinner beginning March 5, 2018. Those looking to take a piece of the restaurant home with them are in luck – branded merchandise, spices, and homemade sauces are available for purchase within the restaurant. For more information, please find Back Beach Barbecue on Facebook, Twitter and Instagram or visit www.backbeachbarbecue.com.