Seagrove Beach, Fla. (October 18, 2017) – Old Florida Fish House will once again team up with Alaqua Animal Refuge for the Fourth Annual Alaqua Wreath Auction to raise funds for the private, non-profit animal sanctuary committed to serving the Emerald Coast. The auction will take place at Old Florida Fish House in Seagrove Beach on Wednesday, November 29, 2017, beginning at 6:30 p.m. All of the proceeds will benefit the no-kill facility that was founded in 2007 by Laurie Hood and is located on a sprawling 10-acre farm in Freeport, Florida.
During the event, auctioneer Helen "Redd" Vizard, will present 20 wreaths created by local artists, businesses, and individuals. The wreaths, some of which will be packaged with bonus items and gift certificates, will each go to the highest bidder during this festive holiday fundraiser for Alaqua.
Area businesses, artists, and talented individuals interested in decorating a wreath for this annual event should contact Jill McDonald with Old Florida Fish House at (850) 534-3045 or Mary Chris Murry with Alaqua Animal Refuge at mmurry@alaqua.org.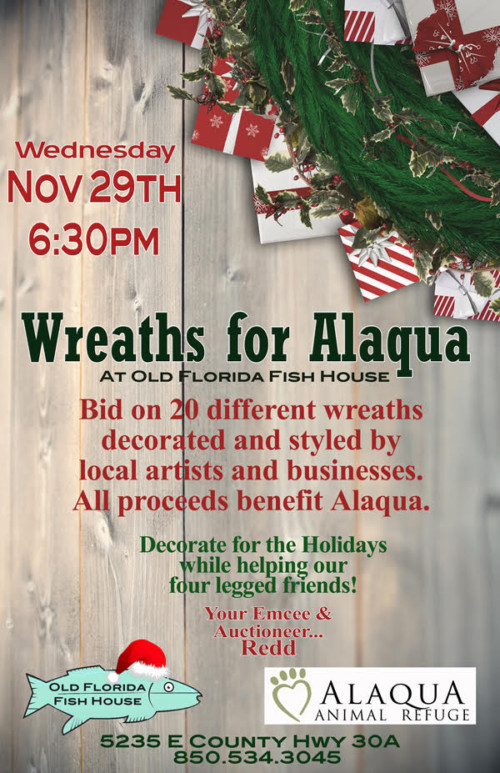 The Wreaths for Alaqua event is open to the public and the community is encouraged to join us in support of Alaqua!
###
About Old Florida Fish House
Located in the heart of Seagrove Beach, Old Florida Fish House prides itself in providing a family friendly, casual dining experience serving daily Gulf fresh seafood specials and the best sushi on 30A. Old Florida Fish House's guests are invited to sip mouthwatering cocktails or an ice-cold brew, and dine inside or outdoors at The Porch, more fondly known as the locals' hidden gem. The screened in porch features a full-service bar, big screen TV's, and panoramic views of Eastern Lake. With seating for over 300, Old Florida Fish House welcomes parties of all sizes and is the perfect celebration venue for everything from birthday parties to weddings. For over a decade, Old Florida Fish House has proudly featured local live music, special events and South Walton's most sought-after dining experience. Find Old Florida Fish House on Facebook, Twitter and Instagram to stay up to date with specials, events and more. For more information, visit http://www.oldfloridafishhouse.com/ or call (850) 534-3045.
About Alaqua Animal Refuge
Alaqua Animal Refuge is a no-kill animal shelter and sanctuary, located in the panhandle of Florida. A member of the Global Federation of Animal Sanctuaries, Alaqua believes that every abused, neglected and homeless animal deserves a second chance. Committed to providing protection, shelter and care to animals in need, this private, non-profit Refuge also offers a full-service adoption center, educational outreach, and community programs that extend far beyond their geographic location. Since its inception in 2007, Alaqua has become a recognized leader in animal rescue, welfare, cruelty prevention, and advocacy. Alaqua is currently in the midst of a relocation and expansion capital campaign to build a one-of-a-kind facility—the first in the United States—on 100 donated acres. The new facility and sanctuary will allow Alaqua to continue all of the important work that is done now, as well as be an educational and training center to empower others to help animals and recreate the model worldwide. To learn more, visit www.Alaqua.org.