OMGoodness Thanksgiving (and more importantly Black Friday) is almost here! We can't believe we're already talking turkey and getting ready for our busiest time of the year. We're thankful that Thanksgiving is a little later this year so we have more time to prepare, however, reservations are already starting to fill up! Check out our list below of festive holiday feasts that will get you out of cooking, shopping, and prepping this Thanksgiving. Let the professionals take the reins and enjoy a holiday meal the whole family will be talking about for years to come.
BACK BEACH BARBECUE
What's better than a little 'cue to celebrate everyone's favorite annual turkey day! Leave the cooking to Back Beach Barbecue this Thanksgiving and order The Pitmaster Thanksgiving Feast To-Go! You'll have a choice of a whole smoked turkey ($65) or a smoked turkey breast ($15) that have both been brined, dry rubbed, packed with flavor, and served with piping hot gravy. Back Beach will also be providing all of your favorite fixings including cornbread dressing, mac & cheese, collards, green bean casserole, and sweet potato casserole. Finish off the meal with a slice of pecan pie that will also be available for purchase! The chefs and crew at Back Beach Barbecue look forward to serving you this holiday season.
For more information, visit backbeachbarbecue.com or call (850) 249-0822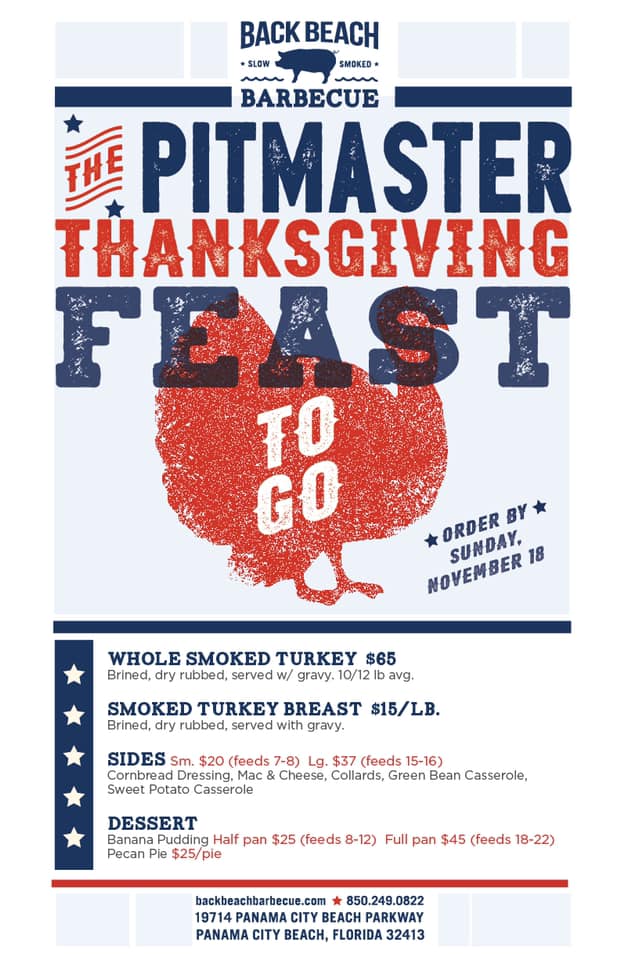 BEACH WALK CAFÉ
Spots for Beach Walk Café's Thanksgiving Day Buffet are already full, but you can still be added to the waitlist just in case!
From 11 a.m. to 3 p.m., Beach Walk Café, located in the Henderson Park Inn, will host a holiday buffet complete with soups, salads, sides, and dessert! For the main dish, feast on Thanksgiving classics like roasted turkey breast served with gravy or Beach Walk- favorites like Pecan Crusted Grouper. Everything will be prepared by Beach Walk's master chef, Daniel Peters. The cost is $48 per adult (ages 16 and older) and $25 per young adult (ages 13-15).
Click here to view the complete Thanksgiving menu.
Call (850) 650-7100 to be added to the wait list!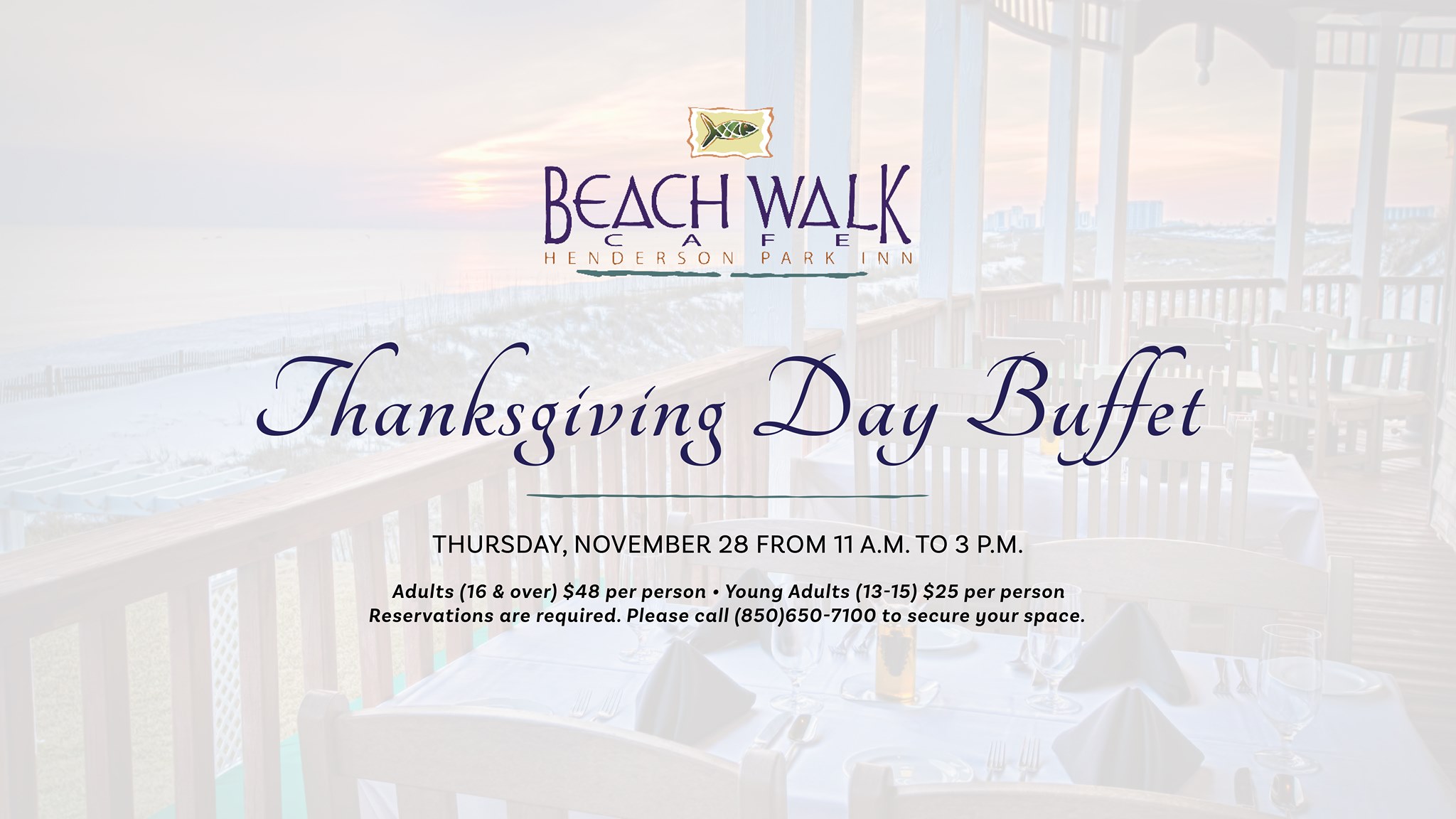 BIJOUX RESTAURANT + SPIRITS
Bijoux Restaurant + Spirts, located at The Market Shops, will be hosting an indulgent Thanksgiving meal featuring their daily dinner menu or a special Thanksgiving menu filled with all of the classic fixings. Feast on Andouille Crusted Red Fish, Pan Roasted New Zealand Rack of Lamb, or a special a la carte menu featuring herb roasted turkey, apple sausage stuffing, bacon braised brussels sprouts cranberry walnut relish, and so much more! Seats are beginning to fill up so call NOW to book your spot (850) 622-0760.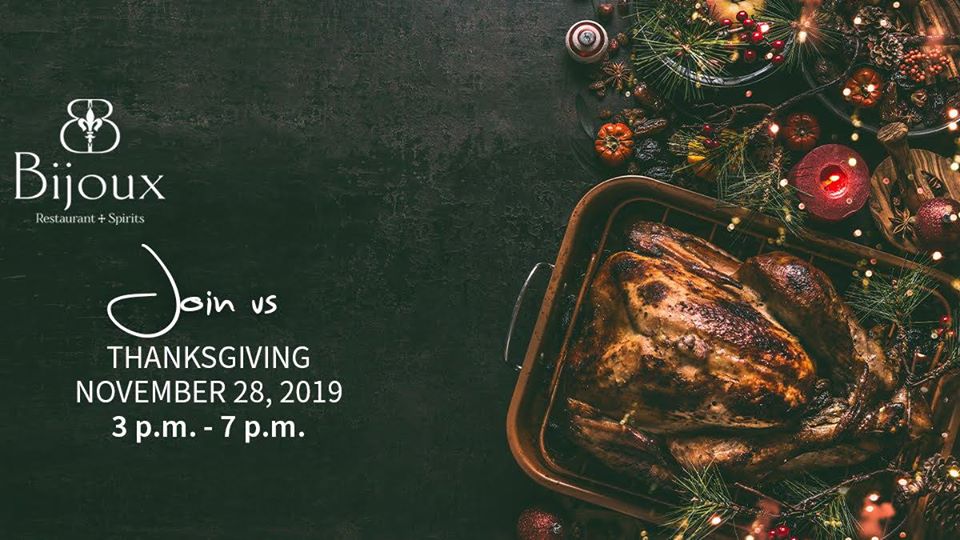 BROTULA'S SEAFOOD HOUSE & STEAMER
Come enjoy a stress-free holiday with Brotula's Seafood House & Steamer as they will be serving up their signature Thanksgiving Buffet, from 11:00 a.m. to 6:00 p.m.
The appetizing buffet menu includes a variety of options including conventional Thanksgiving fare! Cajun Fried Turkey, Slow Roasted Prime Rib, Traditional Stuffing and Cranberry Dressing are just a few of the tasty menu options to choose from. Don't forget to leave some room because there will be plenty of Pumpkin Pie, Pecan Pie and bourbon Maple Bread Pudding for dessert.
Pricing for the bountiful buffet is $36.95 per guest, $17.95 for guests 11 years of age and under, and free for guests under 3 years old.
Brotula's Seafood House & Steamer invites customers that want the ease of enjoying Thanksgiving Day with neither the preparation nor the clean-up to make reservations for their party, big or small, by calling (850) 460-8900.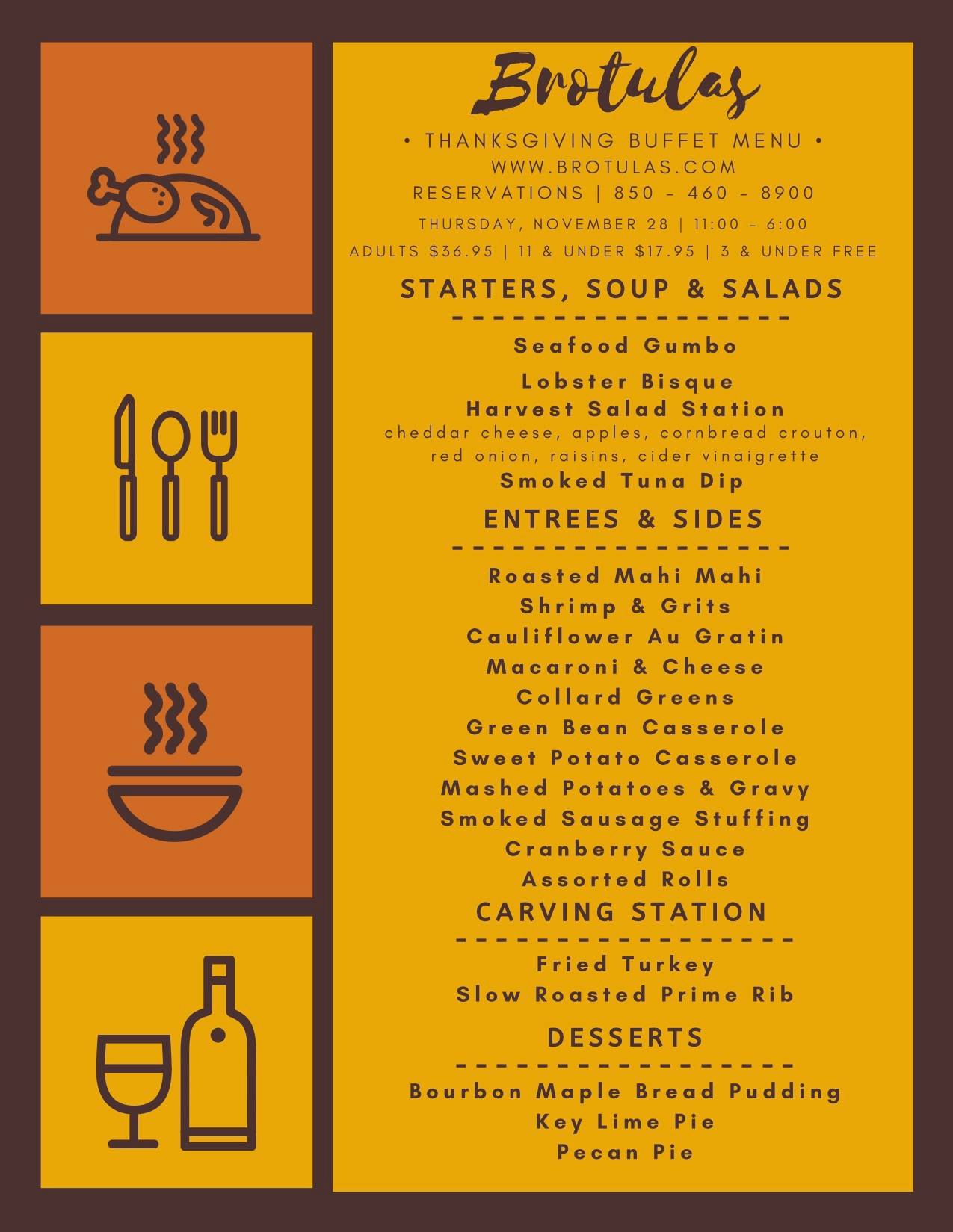 CUVÉE KITCHEN + WINE BAR
Celebrate and be thankful at Cuvée Kitchen + Wine Bar this Thanksgiving! Spend time with family and friends and instead of being in the kitchen all day, sit, relax and enjoy Cuvée's Annual Thanksgiving Buffet from 11 a.m.- 6 p.m. Savor fresh seafood, local ingredients and classic fall dishes like Chestnut leek Apple Stuffing, Thyme-Honey Glazed Ham, and Maple Bourbon Bread Pudding. Okay, now our mouths are watering!
Run, don't walk and make your reservation NOW! (850) 460-2909.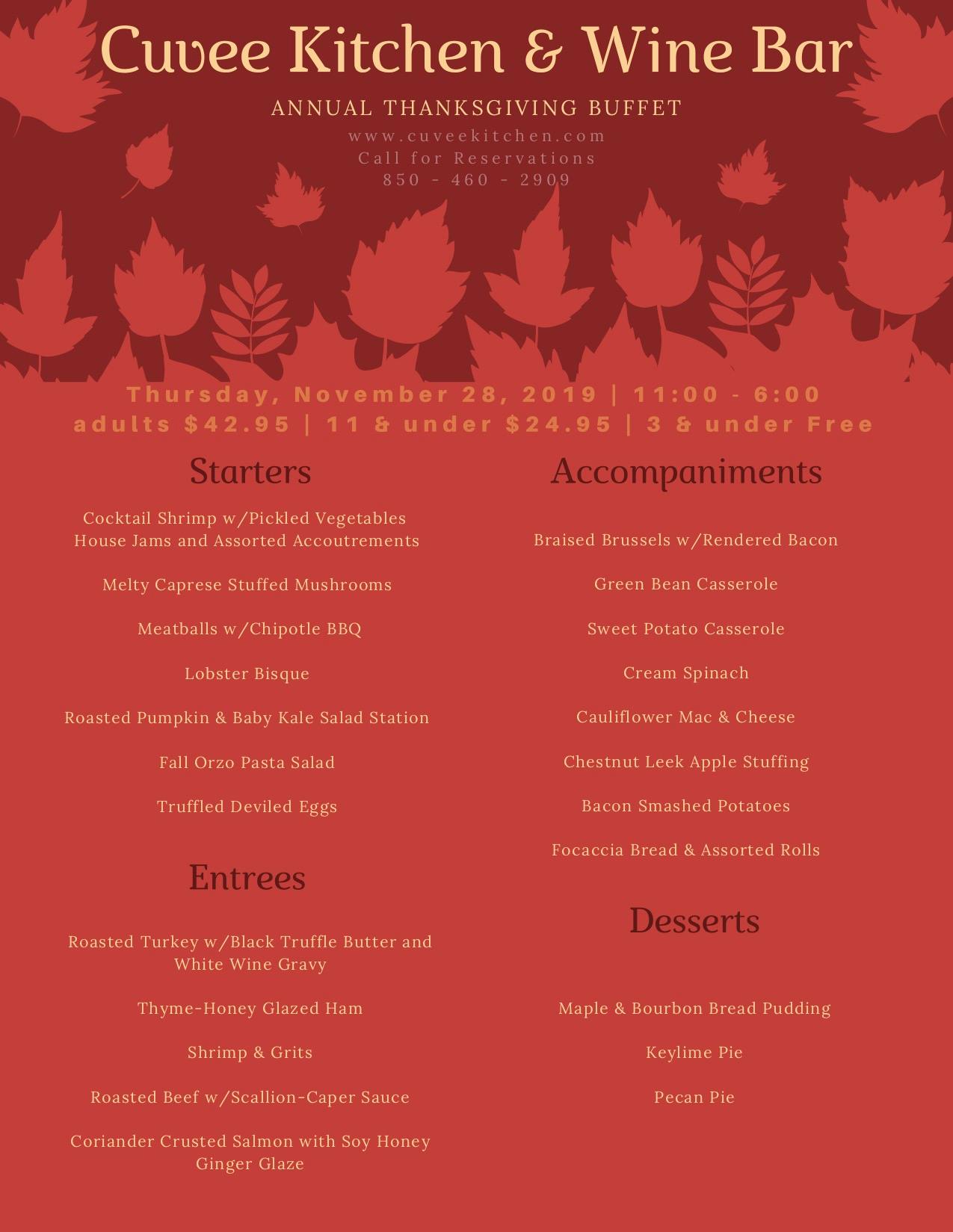 MARLIN GRILL
Thanksgiving at Marlin Grill is a special treat for the holiday season! Their decadent Thanksgiving dinner will be served amongst the sights and sounds of the bustling streets of the Village of Baytowne Wharf. Beginning at 4 p.m., Marlin Grill invites guests to enjoy a delightful meal from their traditional dinner menu. From steaks to seafood to duck, we have the perfect dish for each member of your party. Finish off the evening with ice skating located just steps away at the Baytown Ice Rink! Call (850) 351-1990 to reserve your table.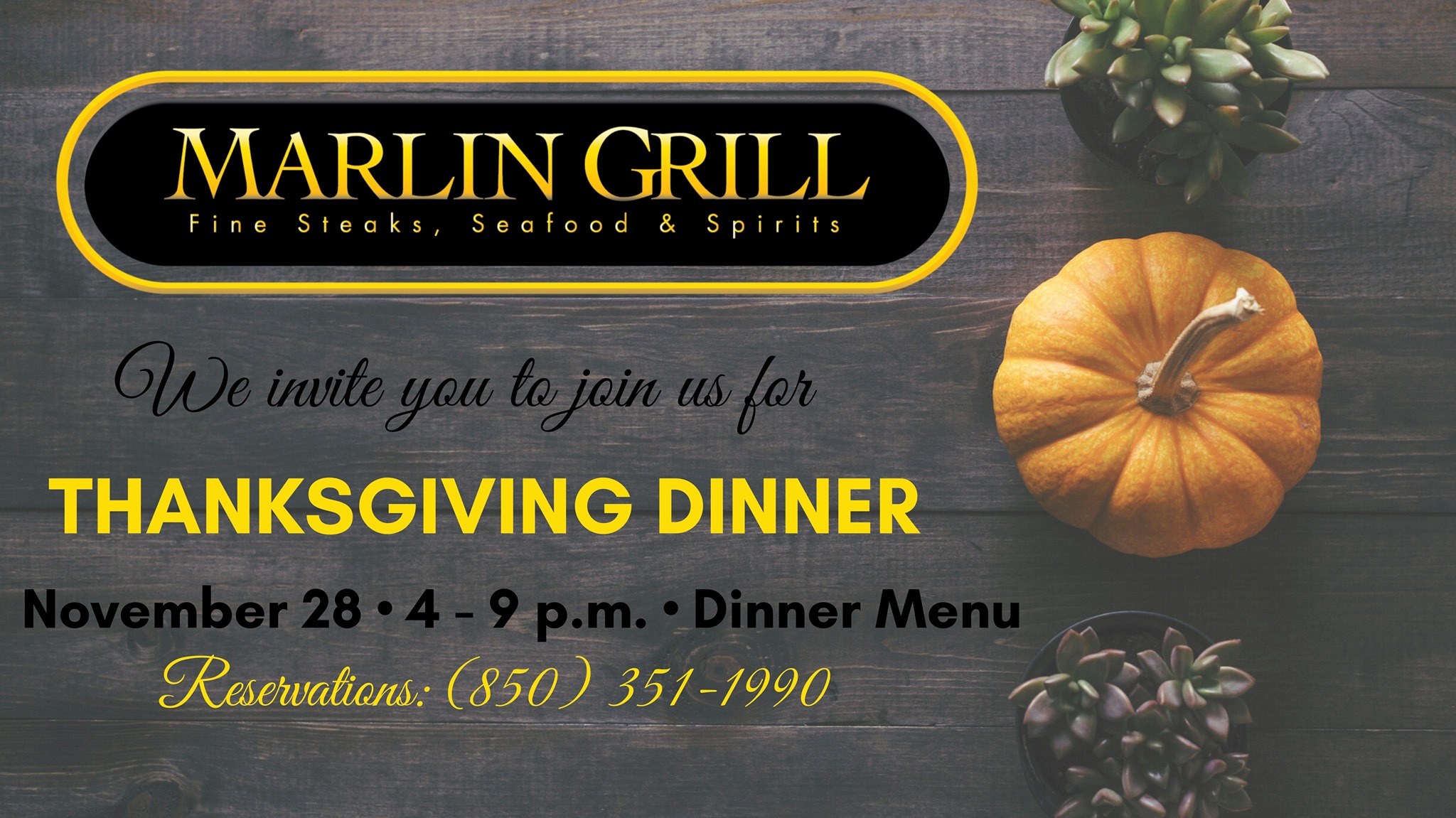 THE HENDERSON
Take the family out of the house and head to The Henderson this Thanksgiving. They are offering several options based on your turkey day preference. From a low-key meal to a full-blown feast, there is something for everyone at The Henderson this Thanksgiving Day!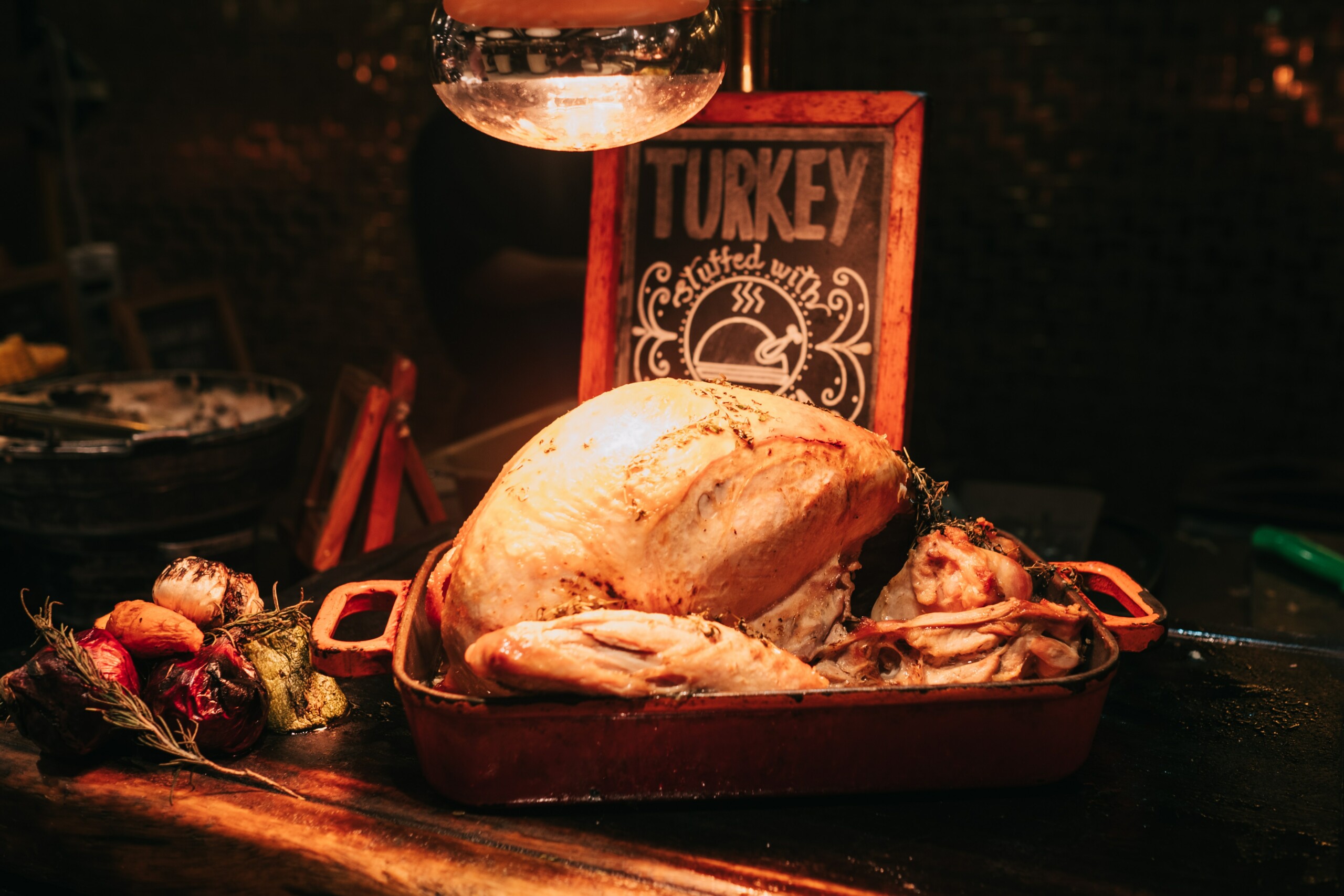 Thanksgiving Day Dinner
Primrose | Seating's at 11 a.m. and 3 p.m.
A family style feast with all of the classic Thanksgiving fixings! Grab a seat in Primrose, the resorts stand-out restaurant, and enjoy carved to order roasted turkey, prime rib, or filet. Round out your plate with cornbread stuffing, rustic cranberry compote, creamy yellow corn, and much more! There is plenty to eat for the whole family – so grab the entire crew (plus a few friends) and head over to The Henderson this Thanksgiving for a meal you'll never forget!
Reservations are required. Please call 850-424-4436 to book.
Open Face Turkey Sandwiches in Horizons
If you're looking for more intimate, low-key Thanksgiving plans, then come to Horizons, The Henderson's signature bar area, any time after 5 p.m. to enjoy a hand-crafted open-face turkey sandwich complete with sides and a slice of pumpkin pie to finish it off! These will taste just like Thanksgiving without all the cooking, cleaning, and prepping! Top off your night with a cocktail on the terrace overlooking the serene Henderson State Park and watch as the sun sets over the emerald green waters of the Gulf of Mexico. Call 850-424-4436 to book your table.
Turkey Takeaway Meals = NO COOKING FOR YOU!
Pre- Order your Turkey and all of the fixings from The Henderson this Thanksgiving! Avoid over cooking or under cooking your bird and let the resort culinary staff take the reins. Your turkey will be perfectly cooked, perfectly moist, and ready to carve on your dining table without even preheating the oven! SCORE! Choose from a variety of sides to complete your meal including warm pumpkin soup, green beans, Yukon gold potato puree and much more! They'll also add in a freshly baked pie to top it off. The cost for 4-6 guests is $160 and for 8-10 guests the cost is $275. There are only 16 turkeys left, so please call 850-424-4436 to reserve yours today!
---
Happy Thanksgiving everyone!
No matter what your meal plans may be, we hope that you get to spend the day with family, friends, and loved ones this Thanksgiving.
The team at Proffitt PR, is eternally thankful for our health, our families, our homes, and our amazing clients who make coming to work every day that much better!