Hurricane Michael made its devastating landfall on October 10th, 2018. Since then, local residents in the surrounding areas have come together to raise funds, gather supplies, and volunteer their time to those who need it most. Local and national businesses have also donated vast amounts to the relief effort in order to help those left without power, food, clean water, or a place to call home.
If you are looking for a way to help, please see the various relief efforts that have been started by some generous local residents and businesses.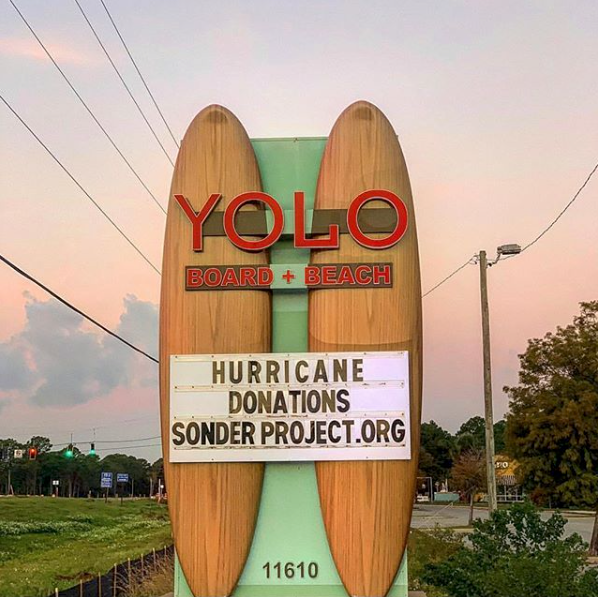 Several years ago, YOLO Board® partnered with two other terrific locally based forces, The 30A Company and 360 Blue, to create a non-profit charitable organization, The Sonder Project® to operate on a mission to strengthen communities through food security, clean water and education, both domestically and abroad. YOLO Board® and The Sonder Project® have now shifted their efforts towards local relief for as long as it takes! As of right now, all of their efforts are currently focused on the low-income neighborhoods of Springfield and Millville. The desire and core values of The Sonder Project®have helped them clear roadways, serve hot meals, and set-up stations to provide supplies. Every donation that is made has gone directly to The Sonder Project® for Hurricane Michael relief and their consistent efforts to help aid storm victims.
There is still so much work to be done and still incomprehensible need in all affected communities. There are many ways for people to donate. First and foremost, by donating at thesonderproject.org to help those affected by Hurricane Michael so they can continue this robust response to meet the greatest needs. Locals can also drop off supplies at the main YOLO Board & Beach store in Miramar Beach. For the coming weeks,YOLO Board® will be leading a work group every Tuesday east to assist with a wide range of relief work. Please go to the Facebook page of YOLO Board & Beach for more details!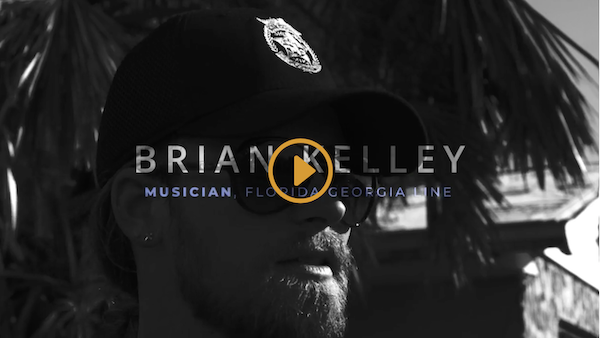 Brian Kelley of Florida Georgia Line and Tribe Kelley kicked off The Sonder Project® campaign with this $5,000 Sonder Challenge!
Join the Challenge today! 30A has agreed to offer any business that joins the
campaign, with a pledge of $5,000 or more, the opportunity to record a video for 30A's social media audience explaining why you are supporting the initiative, and how you are giving back to the community.
Click here to learn more about how your business can help!
---
HOPE Panhandle, Inc. is a newly formed nonprofit organization led by neighboring community leaders. Upon seeing the devastation left behind by Hurricane Michael, they immediately organized and assembled a group of dedicated volunteers to help offer hurricane relief to the residents of the ravaged Florida Panhandle. Together they serve those who have lost so much and are in desperate need of loving support and immediate relief. HOPE Panhandle, Inc. has established a bustling Community Relief Hub in Bay County where they have served over 100,000 families in need of a hot meal and supplies.
Your generous donations go toward these continued efforts by providing essential items to local residents such as food, water, ice, gas, cleaning supplies, hygiene products, baby supplies, pet food and other vital necessities.
If you are interested in donating, visit https://www.gofundme.com/hope-panhandle-inc
If you are interested in volunteering, visit https://www.signupgenius.com/go/70a084eadaf29a6ff2-hope
---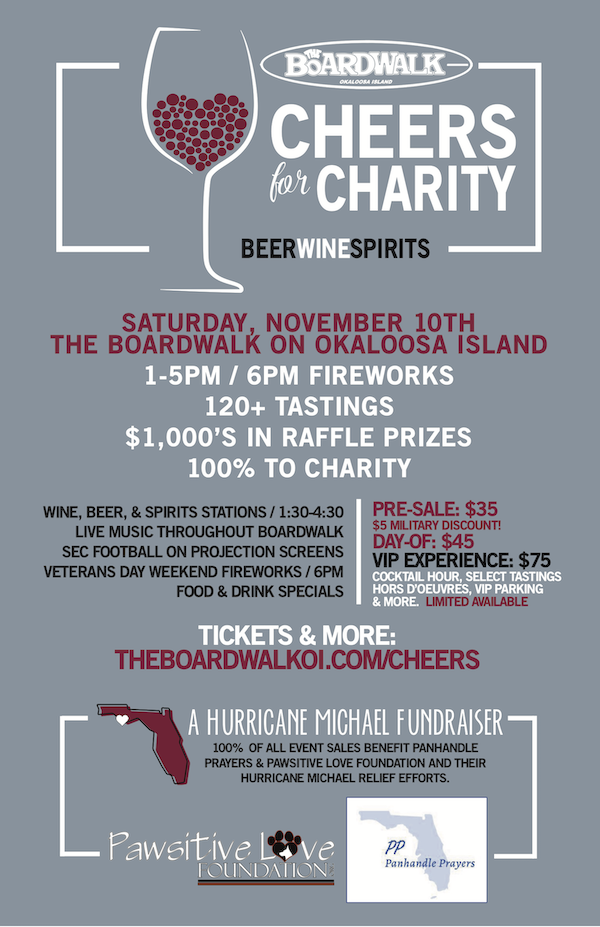 Join us for Cheers for Charity, Saturday, November 10th! Enjoy over 120 premium wines, craft beers, and various spirit tastings along the Boardwalk on Okaloosa Island . One hundred percent of the event proceeds will benefit Panhandle Prayers and Pawsitive Love Foundation, two reputable organizations whose efforts are focused on long-term relief for Hurricane Michael victims.
General Admission tickets are on sale now and includes 120+ Tastings!
$35 pre-sale / $45 day-of
– $5 military discount! –
VIP EXPERIENCE
VIP Tickets are also available for $75 and include early entry with cocktails, premium wine pours, hors d'oeuvres, and VIP parking. Limited Availability.
12:30 – 2:30PM: VIP Lounge Open
1:00 – 5PM: Live Music, Raffles, Ticket Sales
1:30 – 4:30PM: Tastings throughout The Boardwalk
6:00PM: Veteran's Day Weekend Fireworks Show
The event will feature live music throughout the Boardwalk, college football on the Al's Beach Club & Burger Bar projection screen, thousands in raffle prizes, free photo booth, and other vendors. The event will conclude with a Veterans Day Weekend Fireworks Show at 6pm off of the Okaloosa Island pier!
The Boardwalk restaurants will donate 10% of all-day sales in addition to dinner and happy hour specials.
---
Proffitt PR has also partnered with several strong women of Walton County, including Hannah Martin with Premier Property Group, Alissa Aryn of Alissa Aryn Commercial Photography, Vicki Gordon of Beach Escapes Realty, and Jamie Gummere of Blush Beauty Lounge, to volunteer and serve hot meals in the affected areas. Each week, these women take supplies, hot meals, and their hard work ethic over to areas such as Lynn Haven or Panama City, to help those who need it most!
---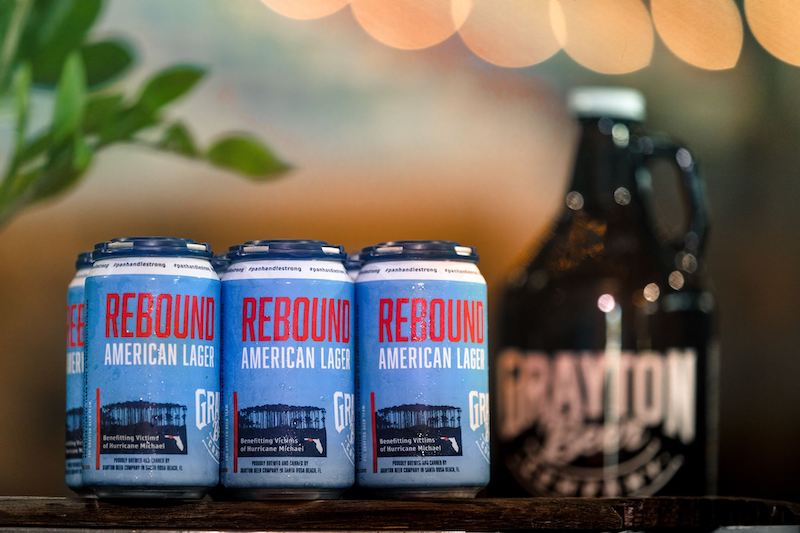 Grayton Beer Company will host a Rebound Fundraising Concert with Panama City native, Will Thompson Music, on Friday, November 9 from 6:00 p.m. to 9:00 p.m.
The concert is free to attend and kid-friendly. During the concert, attendees will have the opportunity to purchase six-packs of the Rebound American Lager, along with Rebound American Lager merchandise. For every 6-pack sold $1 will be donated to those affected by Hurricane Michael.
---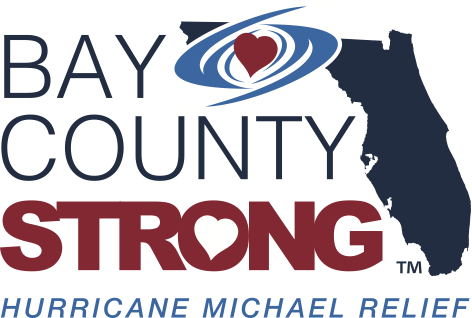 Bay County Strong was founded by the owners of Back Beach Barbecue, Restaurant Paradis, and 101 Concepts as a local effort to assist all of the Florida Panhandle with Hurricane Michael relief through hands on and financial help for those impacted by the storm.
They will be focusing their efforts on 4 key areas:
1) Providing food and meals to those in need.
2) Â Purchasing supplies and tools needed to help clean up the affected areas.
3)  Financial assistance to other organizations, including shelters housing impacted families, various non-profit relief organizations, organizations seeking to provide temporary housing solutions (tiny houses or trailers), and local humane societies which are overflowing with surrendered and lost pets.
4)  Bay County Strong will provide direct, one on one assistance as they uncover specific families or individuals in need.  These needs may be housing, furniture, clothing, or food.
If you are interested in supporting Bay County Strong, you may donate to the relief fund at PayPal.Me/baycountystrong850.
---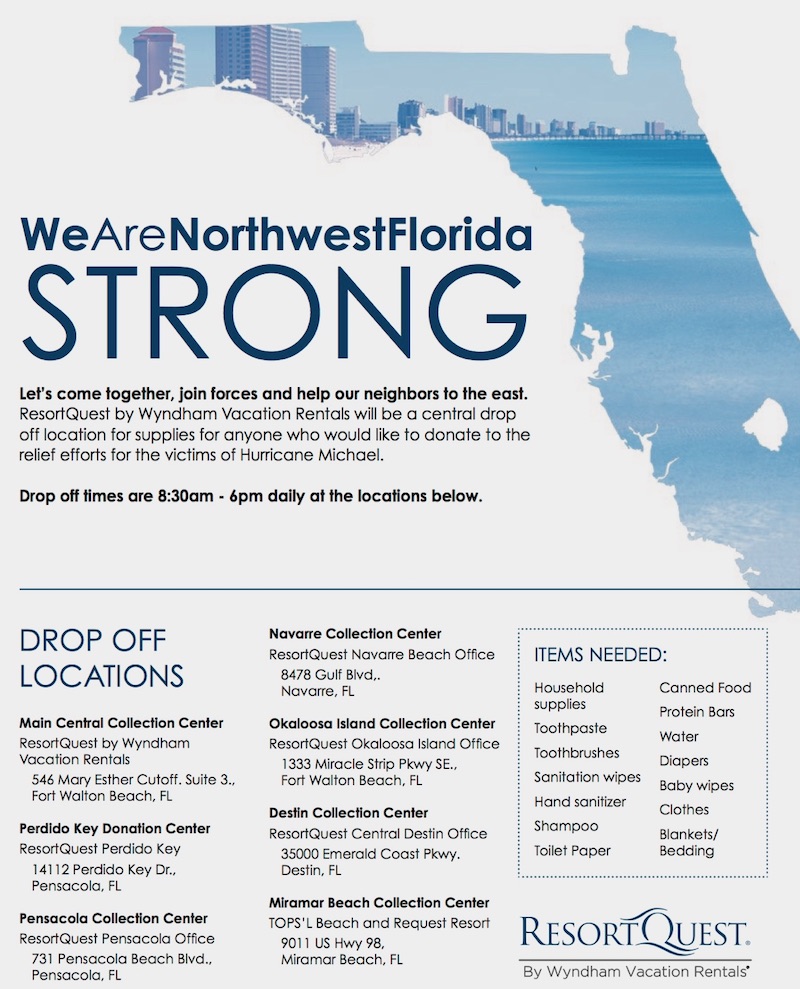 ResortQuest is proud to be a partner in collecting relief items for their coworkers, neighbors and friends in Panama City Beach. Please feel free to bring any donation items to their Gulf Place office while you're here as they will be making continuous deliveries to those in need.
---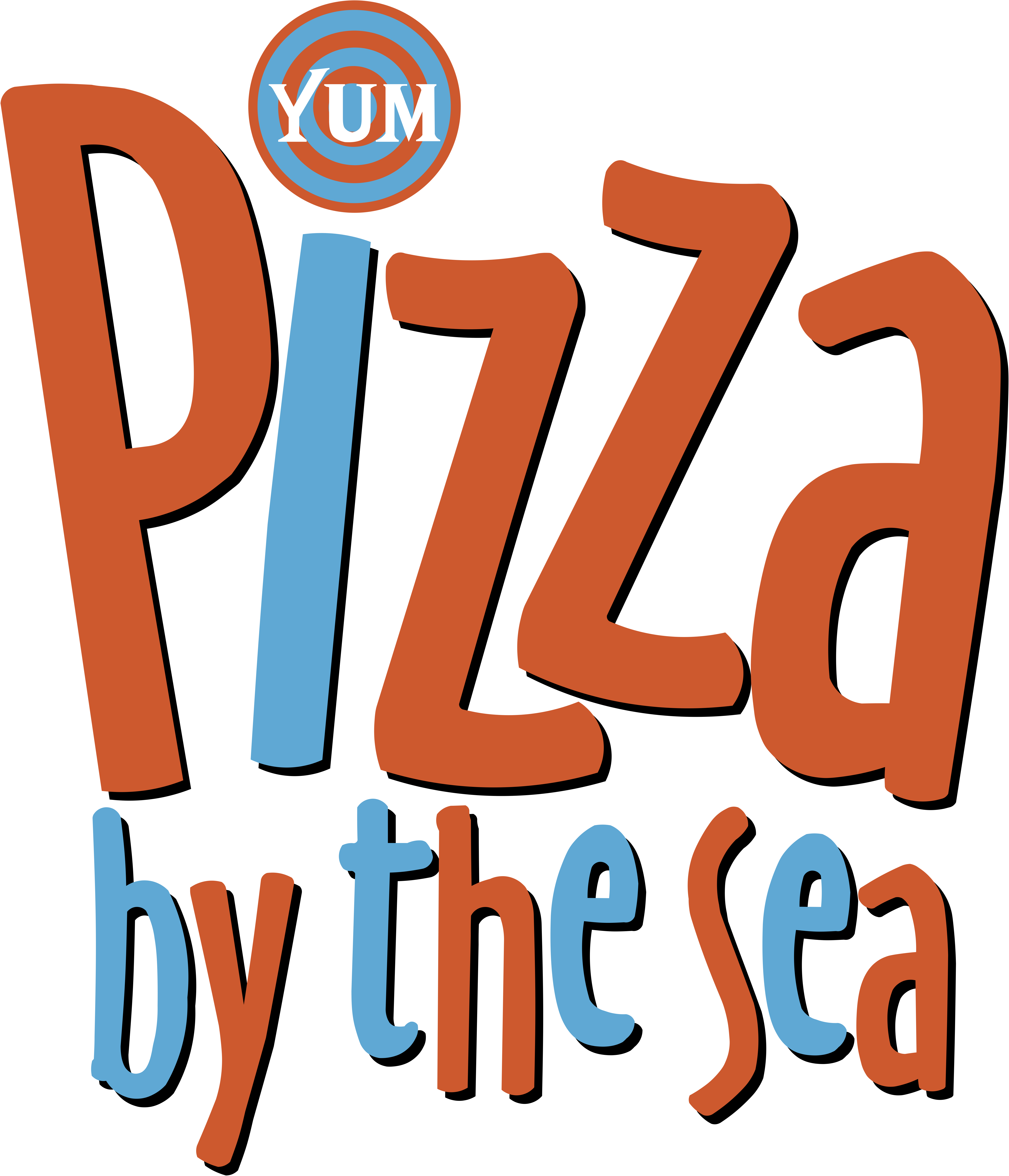 With multiple locations along the Emerald Coast, Pizza by the Sea has been focused on providing help to those affected in various ways. From making pizzas for first responders, to taking truckloads of supplies, this local staple has played a huge part in the local hurricane relief effort. They are continuously taking donations at their Gulf Place, Market Shops, Watercolor, or the Villages of South Walton locations.
If you cannot make it by any of the locations, please click here to view their Hurricane Relief Amazon wish list.
---

Food for Thought Outreach is continuously working in their pantry with community volunteers to pack lunches and backpacks to deliver to the kids in our program.
Does your group want to help? Food for Thought's backpack program is about to grow exponentially – many children from surrounding counties affected by the hurricane will be enrolling in Walton and Okaloosa schools in the coming months. They need your help to make sure these kids have what they need to succeed: food! Email them today to see how you and your business can get involved: volunteer@fftfl.org
---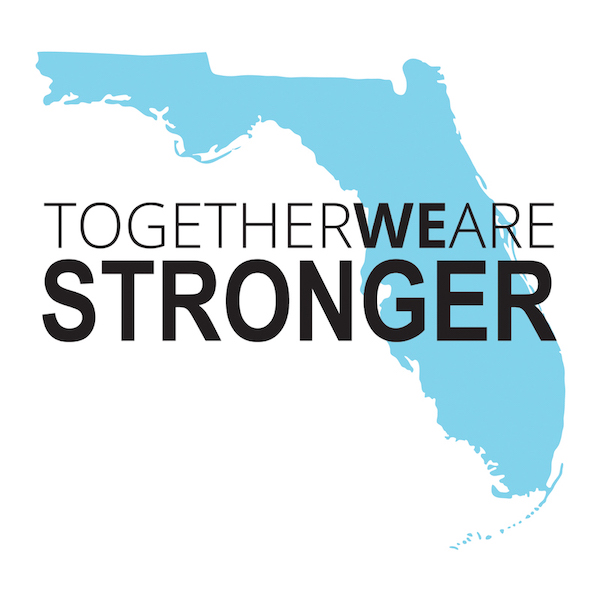 Backroads Sports Network has teamed up with local businesses including the Bean Team, Brotula's Seafood House and Steamer, Century 21 Blue Marlin Pelican, Chi-Mar Construction, Cuvee Kitchen + Wine Bar, Destin Commons, The Henderson Beach Resort and Spa, Jackacuda's Seafood and Sushi, Setco Services, and Step One Automotive Group, in order to help those in Bay County by creating and hosting one collective, grand effort at Destin Commons. They are continuously taking donations at the main Turnburry Harbour entrance.
To donate or find out how you can volunteer, click here.
---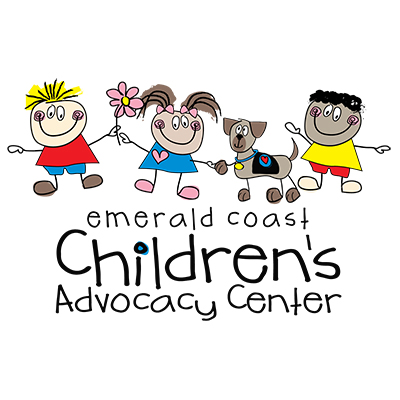 The Emerald Coast Children's Advocacy Center (ECCAC) has been working to help support and provide for the neighbors at the Gulf Coast Children's Advocacy Center
(GCCAC), who were left devastated by Hurricane Michael. ECCAC President, Tammy Pierce, and her husband, Jim, secured a generous donation from Isagenix to help GCCAC and Food for Thought. Isagenix, a global health and wellness company based in Arizona that Jim is an investor and board member of, delivered 10 pallets of food nutrition for disaster relief.
---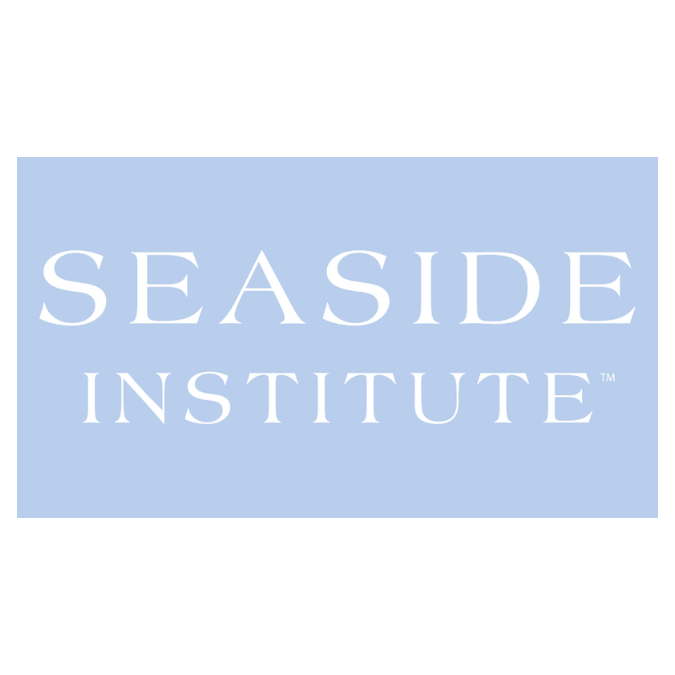 The Seaside Institute, located in Santa Rosa Beach, Fla., has created The Hurricane Michael Relief Fund in order to raise money for those directly affected by Hurricane Michael.
Based on their mission to "help people create great communities," The Seaside Institute is asking the community to come together, support their neighbors, and help aid the devastated communities in the Florida Panhandle. All of the money raised will go towards providing the support needed for the residents in the affected areas.
Those interested in making a donation to the Seaside Institute Hurricane Michael Relief Fund can donate online at http://www.seasideinstitute.org/hurricane-policy/, or by mailing your donation directly to the Seaside Institute, Attention Hurricane Michael Relief Fund.
The Seaside Institute
Attention:Â  Hurricane Relief Fund
PO BOX 4875
Santa Rosa Beach, FL 32459