Celebrate your dad this Father's Day by treating him to breakfast, lunch, and dinner at some of the finest restaurants on the Emerald Coast! There are several Father's Day deals going around that are sure to put a smile on his face. Read below to find the perfect spot to take your dad this Sunday for a day he'll never forget!
Back Beach Barbecue
This Father's Day, Back Beach Barbecue wants to honor all the great dads out there! Celebrate your dad and tell us why your he's the greatest for a chance to win a prize! Enter by liking their Facebook page, sharing this post and posting your answer in the comments below. Everyone is a winner, but only 3 people will receive a $100 gift card! The contest ends on Father's Day.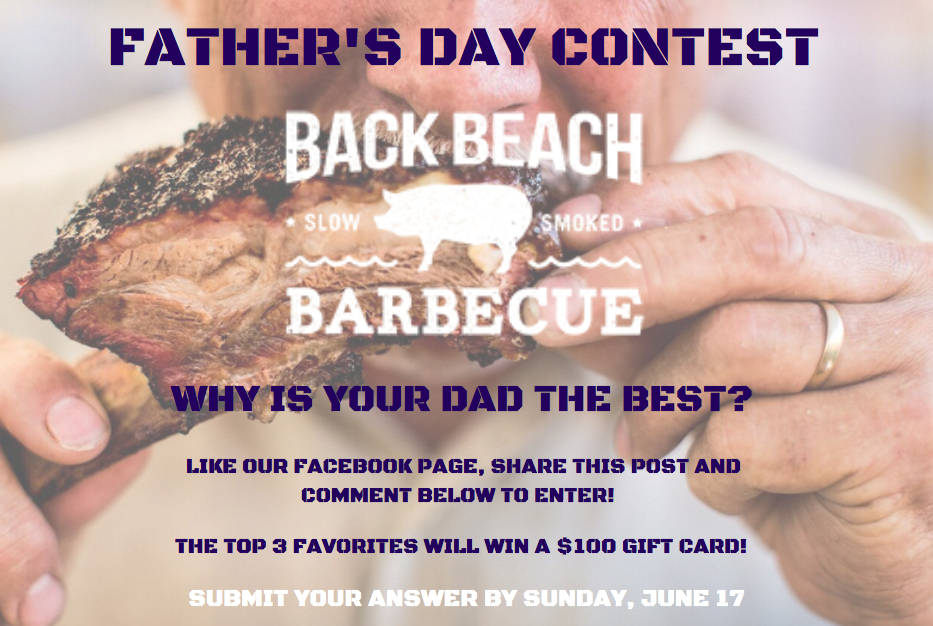 Don't forget about the gifts! What dad doesn't love good barbecue, a ball cap and a T- shirt? Check out Back Beach's merchandise and the new squeeze bottles for their signature Back Beach Barbecuesauces! Choose between our Sweet and Smokey Sauce, Spicy BBQ, Carolina Mustard, or Beach Permit Alabama White to gift your dad this Father's Day. If you only need a little, purchase a pint, but if you're feeding a Father's Day crowd, purchase a quart or a gallon!
Brotula's Seafood House & Steamer

Join Brotula's Seafood House & Steamer for a delicious Father's Day Low Country Boilfeaturing snow crab, shrimp, corn and potatoes for $29.99! This is the perfect spot to hit right before ya'll head out on the boat for an all-day Father's Day celebration. Brotula's is also giving all dads a FREE BEER with purchase of any entree!
If you're still looking for the perfect Father's Day gift, look no further than a Brotula's gift card. If you buy $50 in gift cards for someone else, you'll receive a. $10 bonus card for yourself! Call us at (850) 460-8900 to book your reservation today and save your table.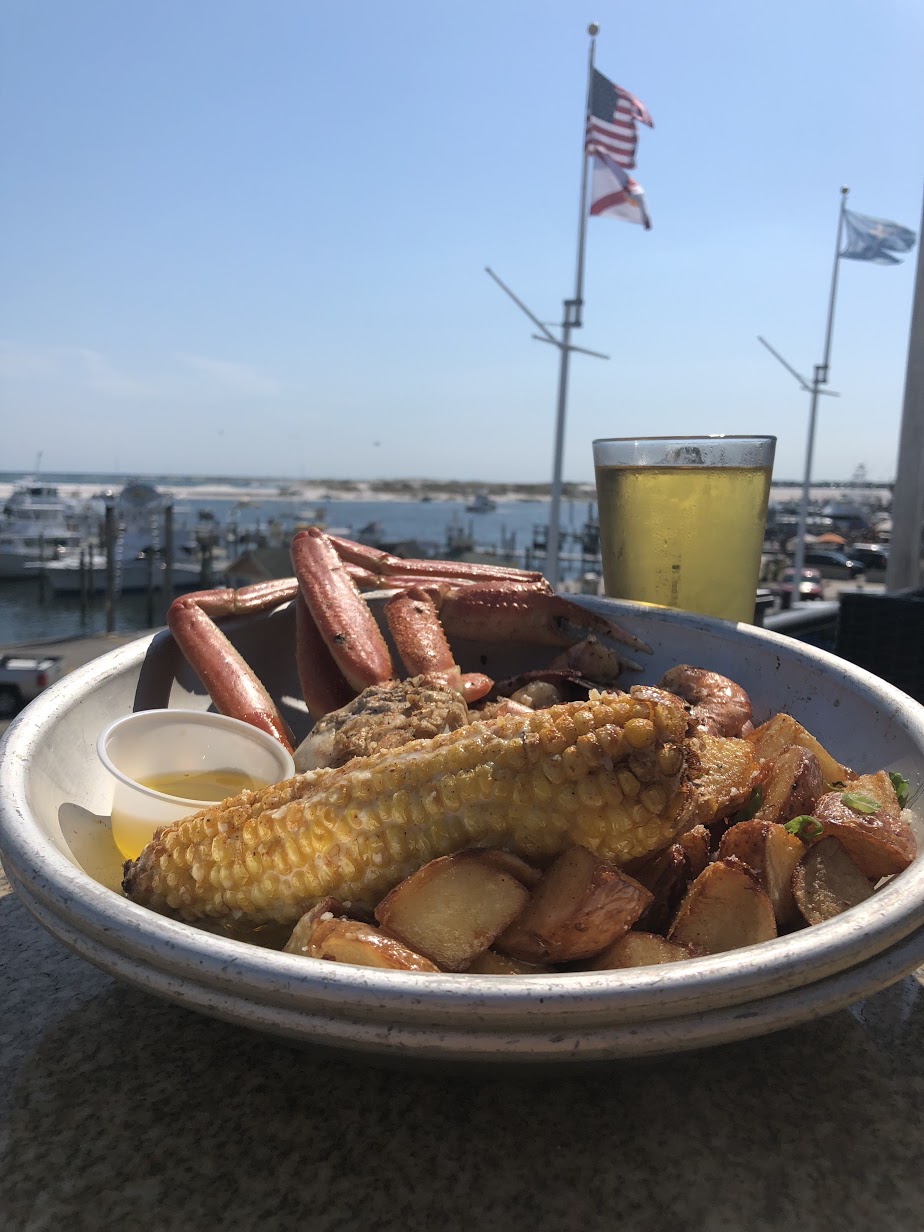 Cuvee Kitchen + Wine Ba

Something to take home to your dad and keep for yourself! From now until the 24th, Cuvée Kitchen + Wine Bar is giving away an extra $10 gift card with every $50 gift card purchase! Cuvee is the perfect place to take your dad for a fine meal filled with fresh, flavorful ingredients and a strong, delicious cocktail any guy would love.
Call today to make your Father's Day reservations, (850) 460-2909.
Gulf Place
If you dad is into live music and enjoying the outdoors, then stop by Gulf Place this Sunday for their Summer Concert Series on the green. Bring your blanket, chair, and favorite snacks for a fun summer evening!  From 6-8 p.m. listen to the musical stylings from Kickstand Jenny, a local band that plays Rock and Roll covers and originals, specializing in 80's rock and dance tunes. Come join the fun and jam out with your dad!
Marlin Grill
Located in the epicenter of The Village of Baytowne Wharf, Marlin Grill's expansive veranda overlooks the event green and concert stage for a perfect dining experience while enjoying the sights and sounds of the exciting village activity! Open daily at 5 p.m., Marlin Grill serves locally caught seafood, 28-day dry aged steaks, family style sides, and award-winning wines. This is the perfect spot to bring the entire family where you can sit outside and enjoy the sunset while the kids play on the green just steps away. To view their menu, click here. Call (850) 351-1990 to make your reservation today!
Old Florida Fish House
Located in the heart of 30A, Old Florida Fish House is the best casual dining spot to take your dad this Father's Day! Their menu features fresh seafood, steaks and sushi. They also serve lunch daily on their spacious porch, perfect for the whole family. Come sit outside an enjoy a tasty lunch or dinner on the porch- you can even bring your dog too!
If you want to start the celebration early, head to Old Florida on Saturday night to listen to their live music by The Fish House Band. A relaxing environment for the whole family and one that your dad will for sure enjoy!
To view Old Florida's menus, click here.
Restaurant Paradis
Restaurant Paradis is the epitome of neighborhood fine dining. Located in the heart of Rosemary Beach, this is the perfect place to treat your dad to exquisite food and fine wine. Or if your dad enjoys a stiff drink, then head over to the Lounge part of the restaurant for a specialty cocktail! View their menu here.
Slick Lips
Derived from the nickname given to Amberjack who don't have any teeth, Slick Lips is a family-friendly seafood and oyster bar nestled in the picturesque Baytowne Wharf. Open from 11 a.m. until 9 p.m., this is the perfect spot to grab lunch or dinner with your Dad this Father's Day. Slick Lips' menu features locally caught fish, fresh ingredients, and an assortment of fresh oysters that you can't find anywhere else! Call (850) 347-5060 to make your reservation for this Sunday! Click here to view their menu.
Sunset Bay Cafe
Before hitting the golf course, head over to Sunset Bay Café to celebrate your dad with a delectable breakfast or brunch! Located near the Linkside Conference Center in Sandestin Golf and Beach Resort, the restaurant overlooks Choctawhatchee Bay and offers a full bar, outside dining options, a Tiki bar, and "grab and go" options. Serving breakfast until 2 p.m., Sunset Bay is a quick stop away from the beach, golf course, or tennis court located in Sandestin. Click here to view their menu.