After a long work week, it was time to treat ourselves to something extra special! The Proffitt PR team decided to spend an afternoon with a little team building and
market research at one of our favorite clients. Upon walking into the 10,000 square foot Salamander Spa at The Henderson Beach Resort & Spa you are greeted with the relaxing smell of lavender. The tranquil sound of the babbling water features that line the hallway walls welcome you to the check-in area. Immediately, you feel relaxed and stress free!
As you enter the locker room area to change, you are met by the friendly staff who is more than accommodating to your every wish. Each of us were handed a plush robe and comfy sandals to change into before our treatments. The Henderson offers a wide range of treatments and specials to guests and visitors alike. Once changed, we waited in the deluxe waiting room furnished with aqua lounge chaises and sipped on the Henderson's signature lavender infused champagne (YUM!). We love the special attention to details!
Each of us received an exceptional spa treatment that released all tension and stress from the week (#WorkHardPlayHard). Caroline and Taylor had the opportunity to experience a full-body massage from one of the Henderson's trained masseurs while Gia and Jessica received a specialized facial treatment. Afterwards, we retreated to the newly installed Himalayan Salt Room. Salt therapy has a wide range of benefits including supporting the immune, nervous and lymphatic systems. Additional benefits are reduced stress and headaches, increased energy, and better sleep patterns. We soaked in every breath!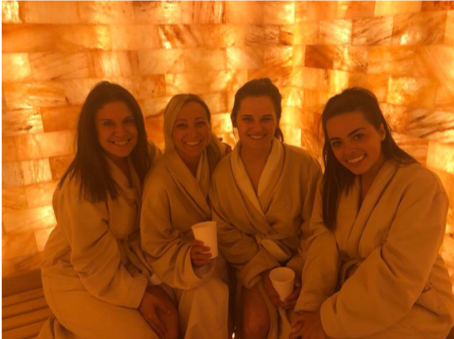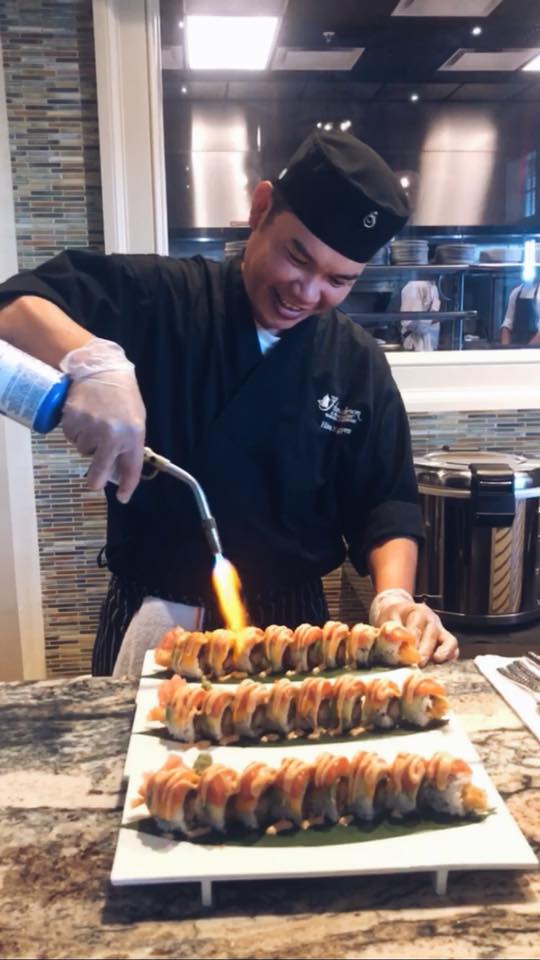 Next, we went into the hot tub and steam room area to soak our feet and continue our relaxing afternoon. The open space, complete with breathtaking views of the
beach and Henderson State Park, makes for the perfect serene spot in the resort.
Now, it was time to get changed and head to dinner at one of the many eateries located within the resort, including Primrose, Sprinkles, Beach Club Grill, Sea Level, and Horizons.
As we walked into Primrose, we were greeted by the friendly hostess along with the floor to ceiling wine cellar and the exclusive art by Justin Gaffrey. We sat at the Sushi Bar located adjacent to the kitchen where we could peak in and see the master chefs at work. Chef Hieu Nyugen, a local to the area, was dedicated to creating a sushi-filled experience unlike any other for our group!
Each of us ordered a specialty cocktail from the restaurant bar and watched as he prepped for our meal. Even though one of us didn't eat raw fish, Chef Hieu was able to make creative and innovative dishes that were completely unique for us and not on the restaurant's  sushi menu. This is not a normal service, however he says he is able to make these special rolls for any private event based on the customer's likes and dislikes. If you are interested in booking a private event at Primrose, request more information here.
The meal went from traditional Japanese cuisine to the more American-ized sushi dishes – aka FRIED! We began with miso soup and edamame then moved on to small plates such as thinly sliced yellowtail with pickled jalapeño. After the appetizers, Chef Hieu began to create several different rolls that would cater to each of our pallets. He even used a blow torch on one to sear the salmon draped on top! Each of the rolls contained fresh seafood and produce, which really enhanced the overall flavor of the dishes. Presentation was never overlooked either! The plating made each roll almost too good to eat. It truly looked like a piece of edible art!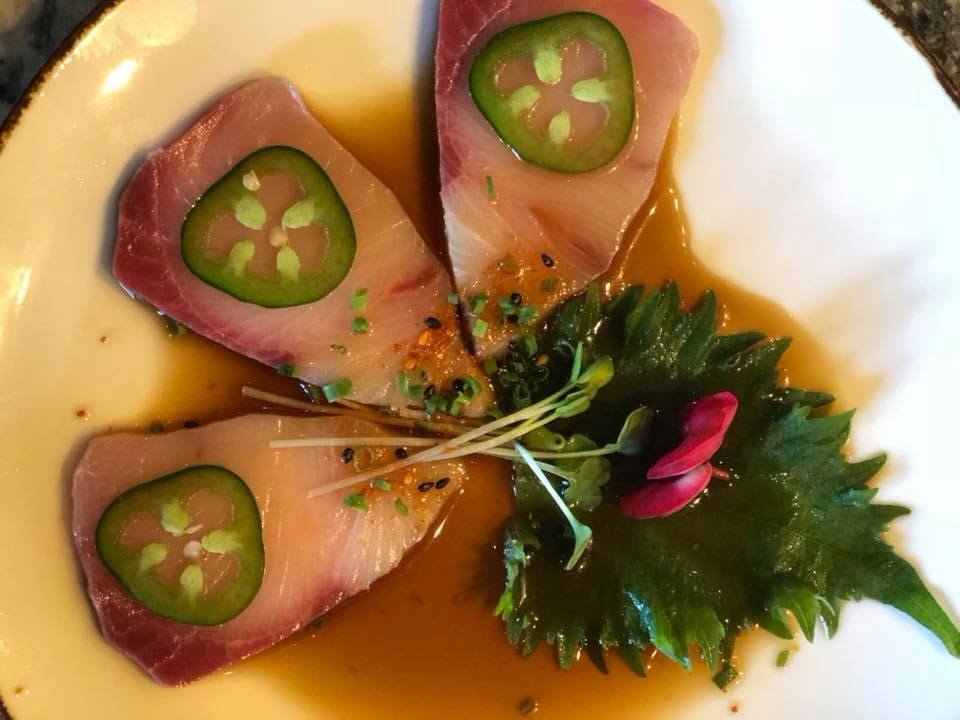 We topped off the meal with a desert sample featuring carrot cake, hot lava cake, and crème brule. Everything was so decadent and rich it was hard to sample it all (but we managed to anyway).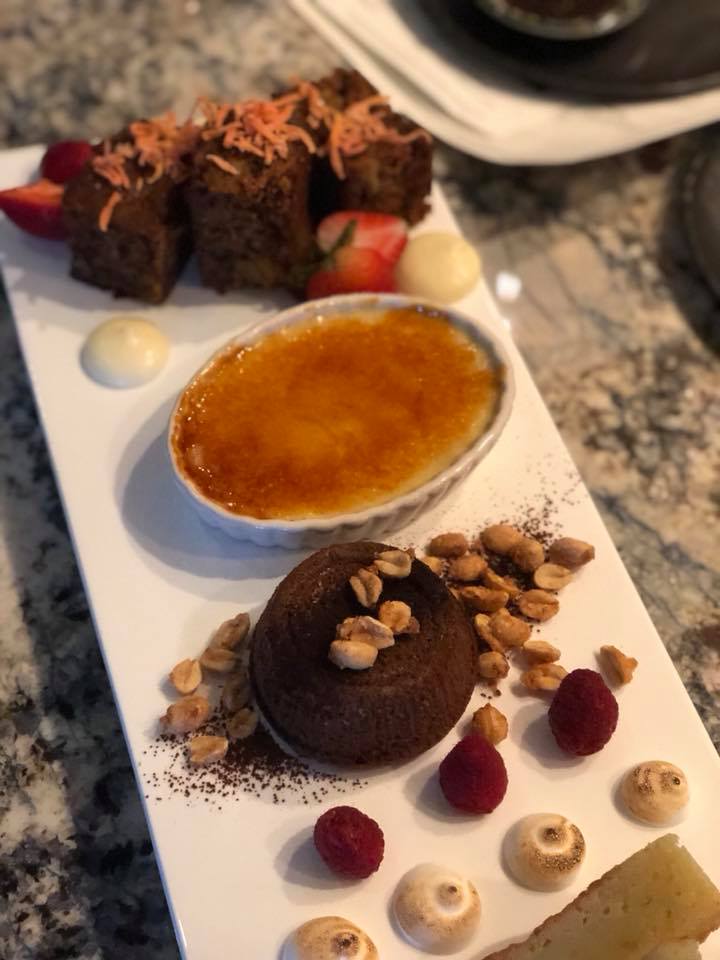 Apart from the food, the service was impeccable! Our waitress, Anastasia, was very attentive and personable. We were also very impressed with Chef Hieu and his use of various techniques in order to showcase his skillset. Along with his humor, the experience was memorable and entertaining! Click hereto reserve your table at Primrose.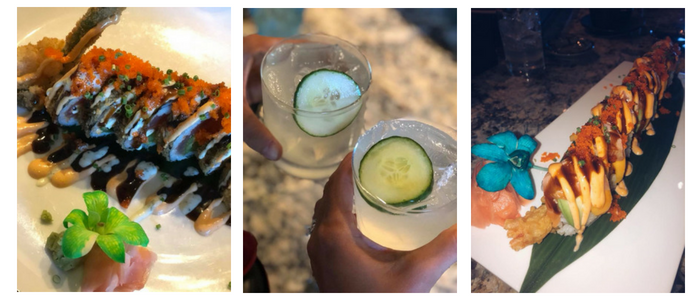 After desert we sat around the table reflecting on the afternoon and discussed the multiple projects the Henderson had going on. They had just completed the Henderson Lofts, one- and two-bedroom units complete with full kitchens and living spaces, and are now entering into peak vacation season for visitors. We saw several groups checking in on that Thursday afternoon for the Memorial Day weekend, which kicks off the summer here in Destin. There was also a bridal party who were checking in for their wedding weekend held at the one of the resorts stunning venues! With all the exciting things happening at The Henderson, you can't help but want to come back time and time again.
We highly recommend the Henderson Resort & Spa for your next getaway, stay-cation or team building afternoon! From the pools, resort activities, spa, restaurants, and events happening each week, this is the perfect spot for you and your loved ones to come relish and unwind. The exceptional services offered along with the friendly staff made our time at The Henderson one we'll never forget! To learn more and to start planning your dream vacation, click HERE.