Young Professionals of Walton County Announces, "Rise & Grind" Breakfast Series
How You Can Profit from Investing in Local Charities We Love​ a "Latte"
WALTON COUNTY, Fla. (January 29, 2018) –  Following the tremendous turnout that the Young Professionals of Walton County (YPWC) saw at their 2018 kickoff event, Pints and Professionals, presented by The Premier Property Group at Grayton Beer Company, the group has announced their breakfast series, "Rise & Grind".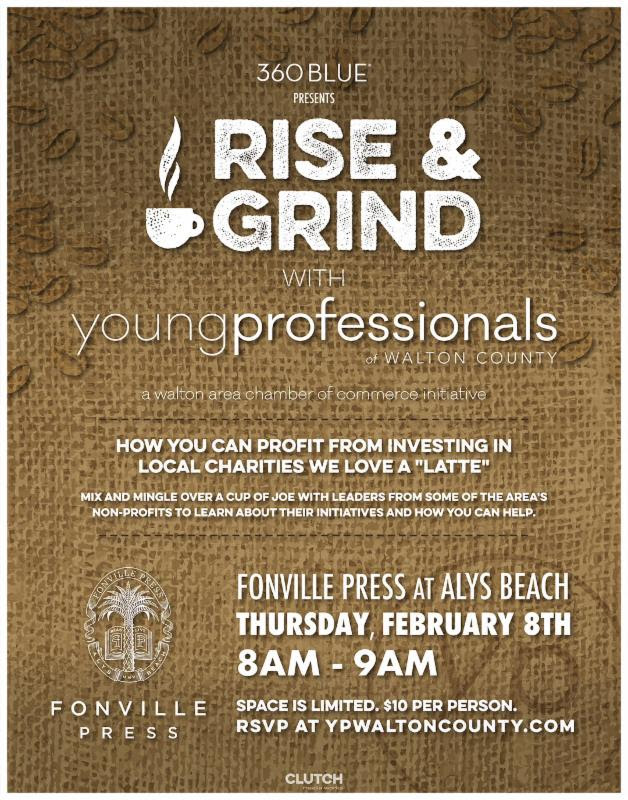 The first in a series of regularly scheduled events, held on the second Thursday of every month, the YPWC invites the community to Fonville Press in Alys Beach, Florida, on Thursday, February 8, 2018, to learn "How You Can Profit from Investing in Local Charities We Love​ a 'Latte'".  
The program is sponsored by 360 Blue. Known for their world-class service, 360 Blue represents the largest collection of luxury homes on the coast, backed by a fun and energetic team who have a passion for sharing the local lifestyle and giving back to those in need.
Beginning at 8:00 a.m. the hour-long networking event gives young professionals the opportunity to meet with leaders from some of the area's non-profits and learn about their initiatives. Confirmed non-profits include:
30A Recycling
A Bed 4 Me Foundation
Arc of Walton County
Children's Volunteer Health Network
Dog Harmony
Guardian Ad Litem
Mortgage Professionals Providing Hope
The Sonder Project
Westonwood Ranch
"A number of our board members represent area businesses who have long seen the value of investing in local non-profits, and it is because of the return we've seen through these partnerships that we felt this was a great start to introduce our 'Rise & Grind' Breakfast Series," said Jessica Bracken of Proffitt PR, Young Professionals of Walton County Board President.
Cost to attend is $10 per person and includes coffee and light breakfast fare. Space is limited to the first 50 registrants. Those interested in attending are asked to register in advance at http://bit.ly/RiseGrind020818.
If your business is interested in donating a door prize to raise awareness amongst this local group of young professionals, please email Erin Bakker at erin@thehivecreativeconsulting.com.
Photo attached by Land • Air Sea Productions of the Young Professionals of Walton County's kick off event on January 11, 2018. 
###
ABOUT YOUNG PROFESSIONALS OF WALTON COUNTY
Founded in 2009 under the name YP @ The Beach and having undergone a revamp in 2017, the Young Professionals of Walton County (YPWC) is an organization created by the Walton Area Chamber of Commerce whose mission is to bridge social, geographical, political and economic boundaries across Northwest Florida's Gulf Coast, while providing a venue for ambitious individuals to network and enhance their professional development skills.
YPWC will host networking, professional development and team building events the second Thursday of every month.
To learn more about these events and Young Professionals of Walton County, visit http://bit.ly/YPWaltonCounty or connect on Facebook.