Gulf Place Welcomes New Veterinarian and Announces a Number of Events Beginning in 2018
Santa Rosa Beach, Fla. (January 10, 2018) – Gulf Place on 30A welcomes new Veterinarian in the town center and announces a number of events beginning in 2018.
30A Vet, located in Gulf Place on Spires Lane, and Dr. Tonia Shatzel have announced a new veterinarian, Dr. Kelly Brawner, will be taking over the practice. Raised on a professional Quarter Horse farm in central Alabama, Dr. Brawner received her Bachelor of Science degree in Zoology from Auburn University, attended veterinary school at St. Matthew's University, and completed her clinical year rotations at Oklahoma State University. Her passion to be part of a client-centered general practice that provides comprehensive care for the pets in the community has finally been realized with the purchase of 30A Vet, placing her regionally right in the middle of her family members' homes. 30A Vet will be hosting an open house on Thursday, January 11, from 5 to 6:30 p.m. Light bites, mimosas, and dog biscuits will be provided at the event. To learn more about 30A Vet, please visit: www.30avet.com.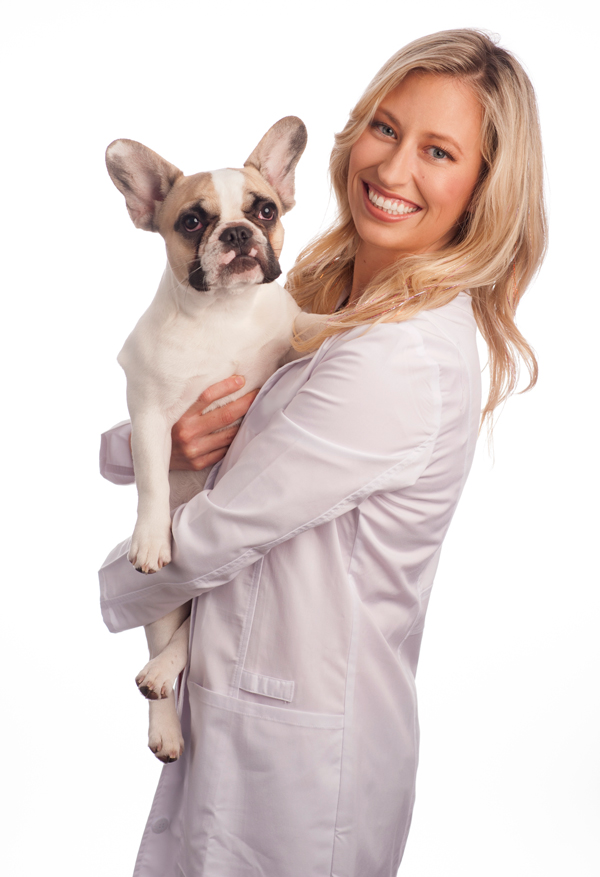 Gulf Place is pleased to announce it will be a 2018 30A Songwriters Festival Venue Partner. The four-day music festival during Martin Luther King weekend, January 12 – 15, 2018, will feature more than 175 songwriters and over 200 performances in various venues. The lineup for Gulf Place will include artists such as Shawn Mullins, The War & Treaty, and Paul Thorn. Artists will be hosted at Gulf Place beginning Friday, January 12 until Sunday, January 14 starting at 5 p.m. everyday. For more information and updates, please visit www.30asongwritersfestival.com.
The community is invited to attend the Snowbird Stroll on Thursday, January 18 from 4 to 6 p.m. Now in its third year, the Snowbird Stroll is similar to the Third Thursday Wine Walkabout. Guests check in at the stage to receive their complimentary commemorative glass and a map with all the participating merchants. Guests will enjoy live music, door prizes, wine and hors d'oeuvres at more than 15 stops in the Gulf Place neighborhood. Gulf Place will host a second Snowbird Stroll on Thursday, February 15, 2018 from 4 to 6 p.m. Cost to participate is $20.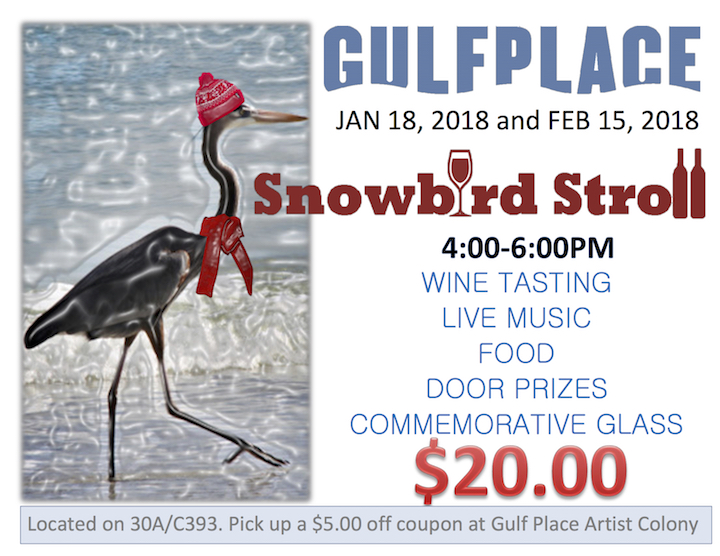 ###
About Gulf Place
Gulf Place is a colorful 30A community featuring 1, 2, 3 and 4 bedroom accommodations, swimming, tennis, dining, shopping and the beauty of the clear, emerald green waters of the Gulf of Mexico. Located between Seaside and Destin, Gulf Place is the heart of Santa Rosa Beach, featuring a host of restaurants, outdoor activities, events, art and shopping. Gulf Place is located on the corner of Scenic 30A and 393 at Laura Hamilton Boulevard, Santa Rosa Beach, FL 32459. For more information, call (850) 267-8458 or go to www.gulfplacefl.com. Find Gulf Place on Facebook, Twitter and Pinterest to stay up to date with current events and specials.