Local Dentist, Dr. Amber Wiebe, Teaches Botox and Dermal Fillers Training Course in Miami, Florida
Santa Rosa Beach, Fla. – December 20, 2017 – Dr. Amber Wiebe DMD, MAGD, FICOI of Smileology – Santa Rosa Beach recently went to Miami, FL to train over 100 dentists, physicians and nurses from all over the world. The two-day course focused on Level 1 and 2 Botox and facial fillers during the #1 Botox and Dermal Fillers Live Patient Training Courses for Dental and Medical Professionals, presented by The American Academy of Facial Esthetics (AAFE).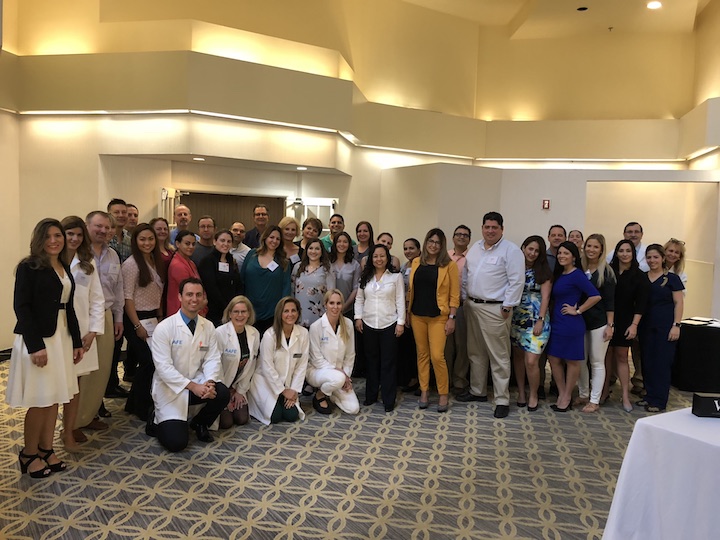 AAFE is a multidisciplinary professional healthcare organization that teaches doctors and dentists internationally and nationally all aspects of facial anatomy, TMJ treatments, facial procedures, Fillers, Botox, Dysport, Kybella and more. Having taught AAFE for almost 10 years, Dr. Wiebe prides herself on comprehensive planning of all facial as well as dental aspects. Dr. Wiebe is uniquely trained in facial volume esthetics, specifically lower, middle and upper facial volume loss as well as wrinkles.  She also has technique sensitive training in prevention and treatment of neck aging. Dr. Wiebe is an instructor with the most cutting-edge association, which gathers the newest techniques including the latest and newest revolutionary filler on the market – Voluma by Allergan and Restylane Lyft by Galderma.  
Dr. Wiebe is acutely aware of the concerns of the aging face and is fervent in her search for techniques to slow down the aging process for both men and women. She studied art sculpture while at Notre Dame and uses that facial structure knowledge when consulting with patients on how to achieve the results they're seeking. She has also garnered techniques from countless national training seminars and sessions where she has learned to create a youthful, rested look without surgery or lasers.  Dr. Wiebe consistently furthers her education in all aspects of dentistry and esthetics, in order to positively impact her patients' lives and our community.
To learn more about Dr. Wiebe and her upcoming courses, please visit www.amberwiebedds.com or call 850-344-1706.
Photo above provided by Dr. Amber Wiebe
Dr. Amber Wiebe (bottom row, 4th doctor kneeling on right) alongside students and doctors at AAFE event in Miami, Florida.