Santa Rosa Beach, Fla. (October 25, 2017) – Gulf Place on 30A is set to host a number events in November.
New this year, Gulf Place will be hosting the First Annual 30-A Firetruck Pull. The event will take place on Saturday, November 4, beginning at 4:00 p.m. Teams will be made up of ten people with each team member paying $10 to participate. Competing team classes will include Men's, Women's, Co-ed, Firefighters, and Kids. Teams will be pulling the firetruck a total of twenty feet and the team with the fastest pull time wins. All proceeds from the event will benefit The Miami Project which conducts research on spinal cords to end paralysis. For more information and updates, please visit www.facebook.com/30afiretruckpull.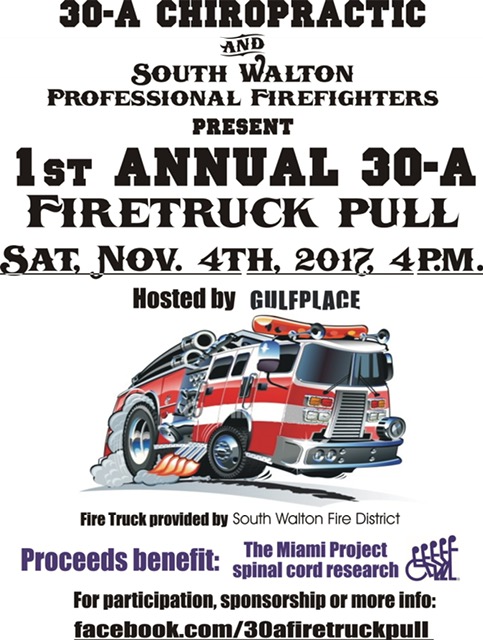 The community is also invited to attend the Holiday Open House on November 24 and 25 from 10 a.m. to 5 p.m. Now in its fifteenth year, the Artist Christmas Event invites families to come out to Gulf Place to enjoy arts & crafts, music, and refreshments. Each artist will have different holiday presents available to make, such as ornaments, jewelry, raku firing, and create your own starfish, which will range in price from $12 to $30. There will be live music by Jay and the BluJays on Friday from 2 p.m. to 4 p.m. and by Sammy Jackson on Saturday beginning at 1 p.m. Santa Claus will be dropping by via firetruck on Saturday from 11 a.m. to 1 p.m. with John Holland taking photos for $5 per photo. To learn more about the Holiday Open House, please visit www.facebook.com/events/371942823261198.