Ruth's Chris Steak House Rallies to Raise $25,000 for Beverage Manager Skot Harville
Destin, Fla. (September 26, 2017) – On Tuesday, September 12, 2017, Ruth's Chris Steak House at Silver Shells Resort hosted the community, loyal patrons and guests to a fundraiser for its Beverage Manager, Skot Harville. Held in their East Bar Courtyard, the night which was centered around the Harville family's recent medical expenses raised $25,000 through donations, silent auction and live auction.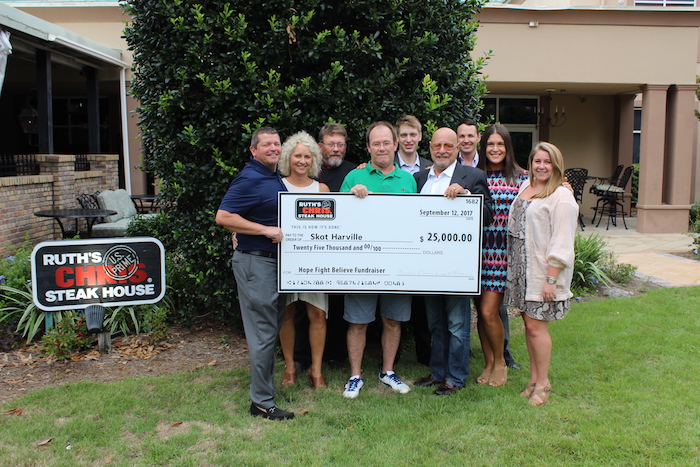 Guests enjoyed included live music by Michael J Thomas and Tom Devoursney, decadent catering stations specially prepared by Ruth's Chris Steak House team, a silent auction and live auction by Luxury Estates Auction Company.
Due in large part to the support of the community, many of whom have come to know and love Skot during his tenure of over a decade since opening day at Ruth's Chris, the event raised $25,000 for Harville and his wife Brenda, who is currently battling lung cancer. Funds raised will immediately assist with the medical bills associated with Brenda's and upcoming PET scan.
Event sponsors and donors included Another Broken Egg, Bijoux de Mer, Bonefish Grill, Brian Filiki, Brotula's Seafood House & Steamer, Cheryl Hodges, Cuvée Kitchen + Wine Bar, Dahl Burke, Destin Charity Wine Auction Foundation, Destin Floral Designs, Dewey Destin Seafood Restaurant, Duck Duck, Emerald Bay Golf & Yacht Club, Five Star Properties, Float Brothers Float Spa, Frankie's A Salon, FrillSeekers, Helen Back, Jim 'N Nick's, Justin Gaffrey Gallery, Marlin Grill, McGuire's Irish Pub, Regatta Bay Golf & Yacht Club, Sandestin Golf and Beach Resort, Silver Shells Full-Service Spa, Steve and Joan Carter, Sunrise Chair Co., Sunset Bay Cafe, The Henderson, Today's Boutique, and YOLO Board.
For those who were unable to attend, donations can be made through the Harville's GoFundMe account https://www.gofundme.com/hope-fight-believe. Donations may also be dropped off at Ruth's Chris, 15000 Emerald Coast Pkwy, Destin, FL 32541.
About Ruth's Chris Steak House
It all started in 1965 when Ruth Fertel mortgaged her home to buy a little steak house in New Orleans called Chris Steak House. As the reputation grew, Ruth expanded and added her name to the original. That's how the uniquely named Ruth's Chris Steak House was born. Today, this fine dining restaurant features expertly executed seafood, New Orleans inspired appetizers, unforgettable desserts and the freshest prime steaks, served to perfection on a sizzling plate. Centrally located in Destin, Florida, the restaurant is open seven days a week, offering dinner from Sunday through Thursday 5 to 9 PM, Friday and Saturday 5 to 10 PM, and Happy Hour from 5-7 PM in our Main Bar, East Bar, and Courtyard "upon availability". To make a reservation call 850-837- RUTH (7884) or for more information visit www.ruthschrisdestin.com or find Ruth's Chris Steak House Destin, FL on Facebook.
Photo taken by Ian Henderson
From L to R:Â Luxury Estates Auction Company Auctioneer, Chris Camp; Luxury Estates Auction Company, Vicki Stokes; Ruth's Chris Steak House Executive Chef, Ruston Johnson; Skot Harville, Ruth's Chris Steak House Manager, Tyler Shook; Ruth's Chris Steak House General Manager, Mike Sable; Ruth's Chris Steak House Marketing Manager, Michael J. Thomas; Proffitt PR President, Jessica Bracken; and Proffitt PR Marketing Assistant, Lexi Willcoxon.