To support their neighbors displaced by Hurricane Harvey, Gulf Place Community is hosting a fundraiser.  The "Bands of 30A Storm Relief Concert" will be held on the Gulf Place Amphitheater, Sunday September 17, 2017, from 1:00 p.m. to 8:00p.m. with all proceeds from the event being donated to Matthew 25 Ministries, an international humanitarian aid and disaster relief organization.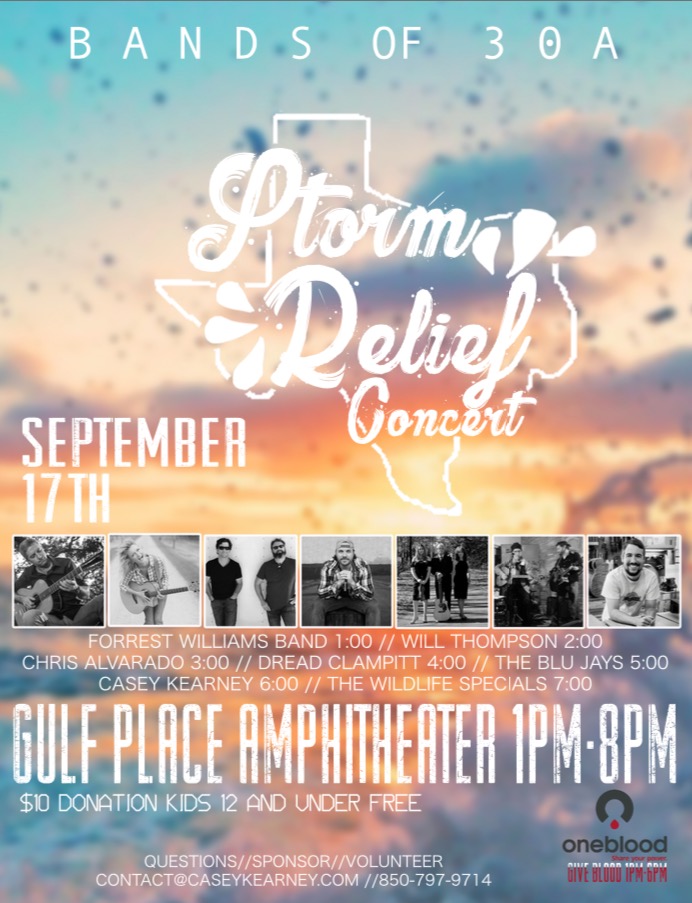 Matthew 25 Ministries is currently in Houston with "Loads of Hope" a mobile laundromat. Loads of Hope was developed to restore a sense of normalcy and dignity through the basic comfort of clean clothing for those in the midst of chaos. The truck features 12 new high-efficiency Whirlpool Duet washers and dryers and can do up to 100 loads of laundry per day, enabling Tide to help hundreds of families during each disaster relief visit.
The musical lineup of local and regional bands will begin performing at the top of each hour beginning at 1:00 p.m. with Forrest Williams Band, followed by Will Thompson, Chris Alvarado, Dread Clampitt, The Blu Jays, Casey Kearney and The Wildlife Specials.
"Our area is inundated with musical talent and locals who love to hear it," said musician Casey Kearney. "Hosting this concert is our way, as the artists of 30A, of giving back to our neighbors on the Gulf Coast."
The event is free to attend, but concert goers are asked to make a $10 donation for full day access to the concerts. Grayton Beach Catering will have plated meals for sale, in which 100% of the proceeds will go back to the relief fund.
In addition to monetary donations, guests are encouraged to stop by the OneBlood Bus to give blood. Donations of all blood types are needed, but there is an urgent need for O negative and O positive blood, as well as platelet and plasma donations. Healthy people who are at least 16 years old and who weigh at least 110 pounds can donate blood. A photo identification is required.
The community has already begun to rally behind this event. To date, sponsors include 30A Events, Artists at Gulf Place, Coca-Cola, East Village Fashion, G2 Entertainment, Grayton Beach Catering, Gulf Place, Kansas Pitts Photography, Proffitt PR and The 30A Company.
The Gulf Place Amphitheater is located at 95 Town Loop Circle, Santa Rosa Beach, FL 32459. Guests are encouraged to bring blankets and chairs to sit on.
If you have questions or you are interested in sponsoring or volunteering for this event please email contact@caseykearney.com or call (850) 797-9714.