Walton Area Chamber of Commerce to host 5th Annual Women Symposium
2017 Empowering Women Symposium presented by Fort Walton Beach Medical Center
FOR IMMEDIATE RELEASEÂ 
Walton County, Fla. (July 21, 2017) – The Walton Area Chamber of Commerce will host its 5th Annual Women Symposium on Wednesday, August 23, 2017, at Hilton Sandestin Beach Golf Resort & Spa. Presented by Fort Walton Beach Medical Center, the theme of "Empowering Women" promises to bring a packed house with a number of widely accomplished guest speakers, networking, enrichment courses focused on empowering women professionally and personally and entertainment.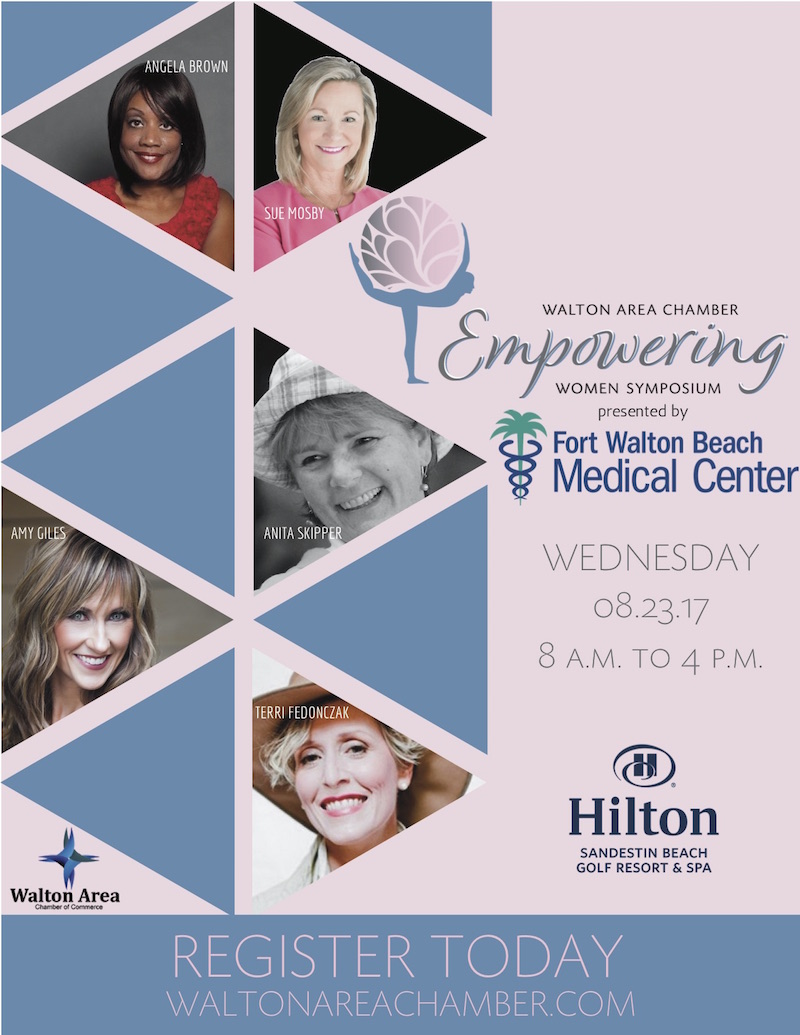 This year symposium attendees will have the opportunity to hear two national keynote speakers, Angela Brown and Sue Mosby; and three enrichment speakers, Terri Fedonczak, Anita Skipper and Amy Giles.
Angela Brown is the Founder and President of Empowering Actions, LLC. Her company provides leadership coaching and training to organizations and individuals worldwide. Angela Brown is a certified John C. Maxwell international leadership coach, speaker and trainer and also serves as leadership coach for the Fuqua School of Business at Duke University for their Global Executive MBA students. She has trained over 1,700 business owners and executives in the U.S., Canada, Puerto Rico and Australia, teaching leadership, sales and communication skills.
Sue Mosby is the Founder and CEO of Infinium, an innovation consultancy. For over 30 years, she has helped senior leaders envision strategic direction, capture new growth opportunities, imagine new products and service lines, and build innovation competency in their organizations. Her unique ability to merge creativity and design thinking enables her clients to build the mindset, skillset, toolset and process to succeed.
As Executive Director of Find Your Pride Foundation, Terri Fedonczak coaches individuals and groups to reduce stress and improve their quality of life through the Foundation's two businesses: Girl Power Station Women's Wellness Destination and 850 Elite Volleyball Academy, where her mission of empowering girls of all ages is put into practice.
Anita Skipper is a retired United States Air Force (USAF) Officer with over 25 years of acquisition and leadership experience. She was a career contracting officer holding positions as an unlimited warranted Contracting Officer, procurement analyst, executive officer, instructor and training manager for the contracting career field. She was deployed to numerous locations in support of Operations JOINT GUARDIAN, ALLIED FORCE, IRAQI FREEDOM, and ENDURING FREEDOM.
Amy Giles is the founder of Wardrobe Made Simple, a business developed to help women and men take an organized approach to fashion and feel more confident through personal style. Giles' affinity for fashion and history of helping friends and family with styling needs led her to create the Santa Rosa Beach, Florida, based company in 2015. While Giles' home base is Walton County she is known to travel to assist clients from all over the southwest. Services include wardrobe evaluation, personal shopping, packing services and professional speaking engagements.
New this year, the 5th Annual Women Symposium will feature two separate keynote addresses, three enrichment speakers and a more casual fireside-style session. Between breakout sessions and the keynote presentations, attendees will have the opportunity to browse forty local vendors centered around women's needs. Attendees will have the opportunity to win a VIP giveaway, plus many more surprises.
Registration and check-in begins at 8:00 a.m. with a coffee bar and light breakfast fare. The 5th Annual Women Symposium will begin promptly at 9:00 a.m. with welcoming remarks from Walton Area Chamber of Commerce CEO, Megan Harrison. Lunch, provided by Hilton Sandestin Beach Golf Resort & Spa, will begin at 11:30 a.m.
Early bird registration is open until August 10, 2017. Early bird pricing is $85 for chamber members and $95 for non-members. After August 10 registration prices are $100 for chamber members and $110 for non-members. Interested individuals can register for the event by visiting http://bit.ly/WACC2017Symposium or by calling 850-892-3191.
 
A variety of sponsorship opportunities are available. Area businesses interested should contact Gabrielle Woods at 850-892-3191 or Gabrielle@WaltonAreaChamber.com.
 
About the Walton Area Chamber
The Walton Area Chamber of Commerce was established in 1925 and provides leadership for a healthy business community. As the area's leading voice of business, the more than 800-member organization represents the interests of business with government, promotes the local community and provides business education and networking opportunities toward building a strong Walton County economy. For more information, visit www.waltonareachamber.com or call 850-267-0683.
—