Hannah Martin's Fourth Annual Birthday Bash, La Lumière Raises $50,000 for Three Local Charities
SANTA ROSA BEACH, FLA. (March 8, 2018) – Broker Associate, Hannah Martin, of The Premier Property Group announced today "La Lumière: A Metropolitan Affair", presented by Destin Plastic Surgery and Duckies Shop of Fun, raised $50,000 for three local charities including Cultural Arts Alliance of Walton County, Special Olympics Florida — Walton County, and Westonwood Ranch.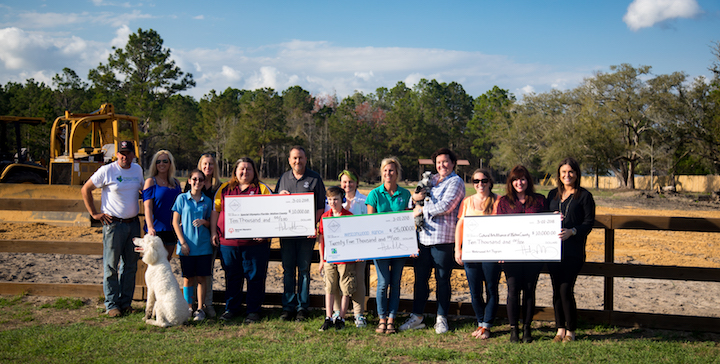 "To see the community come together in this way, year after year, is truly extraordinary," says Hannah Martin. "I feel so blessed and inspired to live in a community that stands up with you. This started as such a tiny little ask that has turned into a mission for change and brightening our special needs future. I cannot wait to see the impact that will take place from the support of everyone that took part in La Lumière this year."
Hosted on February 10, 2018, under the stars at Grand Boulevard, the fourth annual event drew crowds of over 600 in support of the Cultural Arts Alliance of Walton County, Special Olympics Florida — Walton County, and Westonwood Ranch. The funds raised by La Lumière will provide Westonwood ranch with $25,000 to help cover costs for their new facility, along with $10,000 each for the Cultural Arts Alliance of Walton County and Special Olympics Florida — Walton County. La Lumière will not be stopping there, however, as the additional $5,000 will be distributed to support other local events throughout the year.
"Saying 'thank you' isn't quite enough for this amazing amount raised by La Lumière," exclaims Lindy Wood, founder of Westonwood Ranch. "When you are building a charity from the ground up, every single cent needed to construct the foundation of what will begin a lifetime of change for the special needs community counts. The most wonderful aspect of this donation is that the La Lumière Foundation will be able to say that they helped build our facility. Our organization feels humbled and blessed that this generous gift came along at a time when we needed it the most so we cannot thank Hannah and every person who donated their gifts and their time enough to make La Lumière a huge success."
The annual birthday bash was started in 2014 after Martin's mentor and business partner, Jimbo Holloway, approached her about raising seed money for Special Olympics Florida — Walton County. Since it's conception the party has raised nearly $190,000 and has begun generously donating to a multitude of local charities.
The metropolitan themed night of giving included interactive décor by Hermatic Productions, live music by Mr. Big and The Rhythm Sisters, performances by the Aerial Dragons, a choreographed dance by Thi Bod Fitness Group Boomtown Burlesque, oysters on the half shell by 30A Oyster, catering by Brotula's Seafood House & Steamer, Cuvée Kitchen + Wine Bar, and Jackacuda's Seafood & Sushi, desserts by Kilwin's, a cigar bar provided by Shore Thing Cigars, local brews from Grayton Beer Company, craft vodka from Pickers Vodka, wine, cocktails, and interactive photo booths courtesy of Epic Photo Co.
Thanks to the generous donations of area businesses, the night of giving boasted casino themed raffles and an impressive live auction including custom Nicole Paloma Dresses, Nascar Pit Passes, Luke Bryan VIP tickets, an exclusive Emeril Lagasse Dinner, and a luxurious getaway including a weeklong stay in Mammoth, California, donated by Royal Destinations and Elite Alliance.
After the main event, guests were transported by Gulf Coast Go to The Henderson for the official after party where late-night bites, a cash bar, and dancing awaited. DJ 30A was there to set the tone for the dance floor where M&B Photography captured all the after-party had to offer.
The La Lumière Foundation would like to give special thanks to event sponsors who made the evening possible. Presenting Sponsors: Destin Plastic Surgery and Duckies Shop of Fun; Platinum Sponsors: Setco Services, LLC., Elite Alliance, Royal Destinations, VIE Magazine; Gold Sponsors: Emerald Coast Title Services, Grand Boulevard, The Premier Property Group; Silver Sponsors: 360 Blue, 30Avenue, Coastal Luxury Real Estate, Dunlap & Shipman, Hause of Abood, Kolter Homes, NatureWalk at Seagrove, ResortQuest by Wyndham Vacation Rentals; Bronze Sponsors: Bella Waves, Clark Partington Attorneys at Law, FamilyVest, Q Tile, MisChivas Mermaid, Sanctuary at Seagrove, Shore to Have Fun, Shoreline Title, Tim Kramer Photography, Walborsky & Bradley, Walton Funding; In-Kind Sponsors: 30A, 30A Eats, 30A Event Planning, 30A Kids Club, 30A Oyster, 30A Valet, Avantgarde Salon and Spa, Barker Williams, Brotula's Seafood House & Steamer, Design 360, Cuvée Kitchen + Wine Bar, Emerald Coast Luxury Transportation, Eloquent Signs, Emerald Coast Magazine, Epic Photo Co., Grayton Beer Company, Gulf Coast Go, Gulf Coast Restaurants, Hermetic Productions, Jackacuda's Seafood & Sushi, Kilwins, Land Air Sea Productions, Luxury Estates Auction Company, M & B Photography, Merry Beth Myrick Designs, Nicole Paloma, Pickers Vodka, Proffitt PR, Shore Thing Cigars, Showtime Events, SoWal, The Henderson, VIE Magazine, VIP Destin Magazine, Wavefly, Wardrobe Made Simple, and Young Professionals of Walton County. Photography provided by Chloe Bee Photography, Golden one Photography, and Kansas Pitts Photography, along with videography by Jake Dillard Videography.
The team behind Hannah Martin's Party are already hard at work planning for the 2019 event. For more information, please visit www.hannahmartinsparty.com.  If you're interested in sponsoring or getting involved in the 2019 event, please email lalumieregeneral@gmail.com. Stay up to date with news and happenings follow Hannah Martin's Party on Facebook and Instagram.
Check Presentation Photo attached by Land • Air • Sea Productions.
###
About Cultural Arts Alliance of Walton County
The Cultural Arts Alliance of Walton County (CAA) is a Local Arts Agency that supports the arts through leadership, advocacy, funding, programs and education. The vision of the CAA is to be the catalyst for Walton County's growth as a destination for cultural and artistic excellence through which lives are enriched, economy is stimulated and community is strengthened. The CAA headquarters is the Bayou Arts Center where over 200 art classes are offered every year to adults and children. The CAA produces the 30A Songwriters Festival, Valentine Tour of Homes, ArtsQuest, Seaside Writers Conference, South Walton Fashion Week and the Flutterby Festival. Tens of thousands of dollars are awarded annually to teachers, students, artists and arts organizations through the CAA's Art For All Program, which is funded through grants and net proceeds from events.To find out more about Cultural Arts Alliance of Walton County, please visit: www.culturalartsalliance.com
 
About Special Olympics Florida — Walton County
Special Olympics Florida — Walton County provides year-round sports training and competition to children and adults 8 years of age and older with intellectual and developmental disabilities in Walton County.  We currently serve over 100 athletes in the County who compete in 11 different sports at the local, area and state level area for each sport. There are over 300 potential athletes in Walton County alone. Florida is the first state and Walton County is one of the first programs to offer Stand Up Paddle as a Special Olympics Sport. All programs are provided at no charge to the athletes or their families.  Your donations cover sports equipment, uniforms, travel and lodging expenses for local, area and state competitions. To find out more, please visit http://specialolympicsflorida.org/walton/.
 
About Westonwood Ranch
The overall mission of Westonwood Ranch is to fill the gap in transition services as young adolescents enter adulthood. Its central focus is to utilize the medium of agriculture to provide meaningful pre-vocational training, social opportunities for young individuals on the autism spectrum via hands on mentoring and specific skill training in a safe, nurturing, green farm environment. Students experience continuing opportunities to explore and expand their interests through participation in fine arts and crafts, agricultural and equestrian activities, as well as opportunities to integrate with community members through internships, community volunteering and employment. There is also a focus on individual health and well-being which makes our program a truly unique model. To find out more about Westonwood Ranch, please visit: www.westonwood.org