Kathleen Broaderick, Selected for Second Showing at The Foster Gallery
MIRAMAR BEACH, FLA. (August 30, 2016) – Local artist, Kathleen Broaderick has once again been announced among the artists chosen to display their work in The Foster Gallery in The Market Shops, located at the entrance of Sandestin Golf and Beach Resort. Broaderick is one of 15 artists, chosen by jury, who will be exhibiting their work during the fall rotation at the gallery beginning Monday, August 29, 2016, through Saturday, November 19, 2016.
Recently announced as the Mattie Kelly Arts Foundation's 21st Annual Festival of the Arts Poster Competition Winner, Broaderick's winning oil painting, "Bonita", will be prominently showcased on the official festival poster, postcards, the festival guide, t-shirts and souvenirs, on the website, Facebook page and more. Recognized as one of Northwest Florida's premier fine art shows, the Festival of the Arts, produced by MKAF, is one of the most anticipated cultural events of the year on the Emerald Coast. This year's 21st annual event is set for October 29-30, 2016, at the Mattie Kelly Cultural Arts Village in Destin.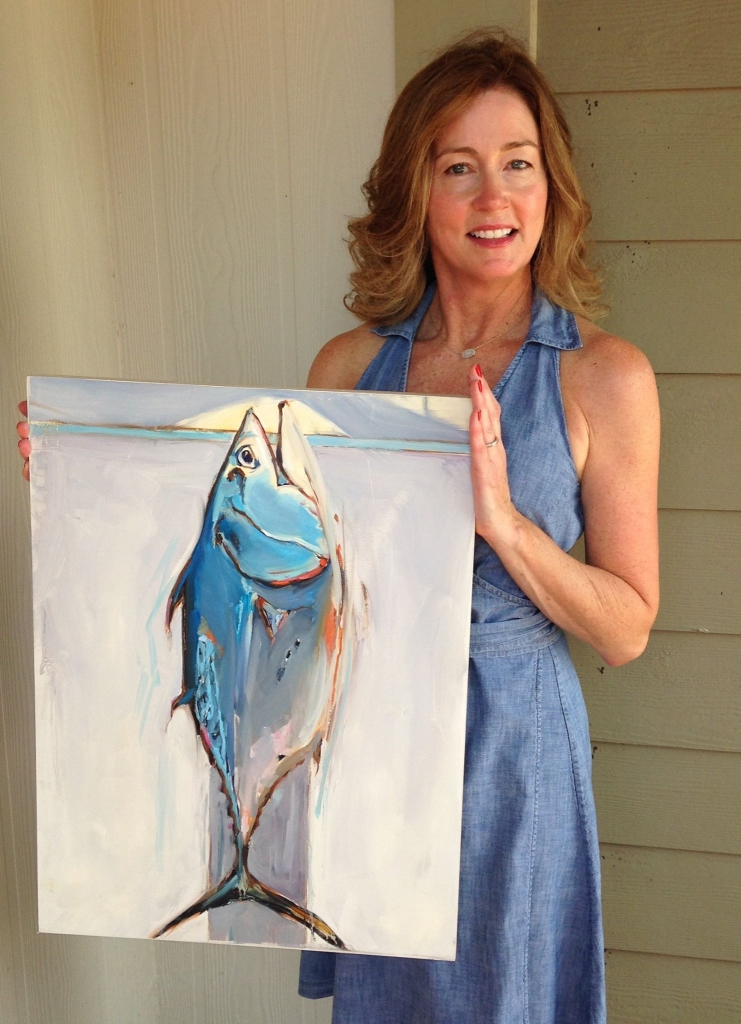 An advocate of Florida's Emerald Coast and the charitable organizations within it, Broaderick has donated her time and works to a number of local charities and events including the Walton Area Chamber of Commerce Women's Symposium, Fore Her 4th Annual Golf Outing, Century 21 Blue Marlin Charity Golf Tournament benefiting Silver Sands School, Emerald Coast Children's Advocacy Center's Wiggin' Out For A Cause, Emerald Coast Magazine's Best of the Emerald Coast benefiting the Junior League of the Emerald Coast, The Taylor Haugen Foundation's Savor the Season and the Destin Commons Charity Cornhole Tournament benefiting the Emerald Coast Children's Advocacy Center, Mattie Kelly Arts Foundation Celebrity Luncheon in Support of All Kinds of Art.
Broaderick is based along Florida's Emerald Coast. She discovered her love for art while taking a watercolor class during her last semester at Florida State University. Kathleen has worked on her craft all over the world including England, Chicago, Illinois, and Stuart, Florida. She has even taken time to spread her love for art as an art volunteer at Plew Elementary in Niceville, Florida, and then as a certified art and elementary education teacher at Edge Elementary. Recently she finished a large, Monet-inspired, mural for her former students and school.
"I'm not so concerned with delineating the exact details or colors of the subject as I am in creating a beautiful impression of it," Broaderick said of her artistic approach. 
A collection of Broaderick's work is on display, along with many other talented artists, at The Foster Gallery located in The Market Shops. The Foster Gallery, the Cultural Arts Alliance (CAA) first member artist co-op gallery, is open next to DIG Eatery and Ben & Jerry's. The Foster Gallery is open Monday – Friday, 12:00 p.m. – 7:00 p.m. and Saturday, 2:00 p.m. – 7:00 p.m.   View Kathleen's work online at http://kathleenbroaderick.com/works