Jessica spoke to guests in South Walton at Marie's Bistro, Fort Walton Beach at Chapala Authentic Mexican Restaurant and finally at The Emerald Grande at HarborWalk Village in Destin. If you were unable to attend we are excited to share Jessica's presentation with you in this blog post! As always, Proffitt PR encourages area businesses and individuals looking to expand their marketing efforts to contact us directly. We would be happy to meet and discuss a customized approach to your business goals!
The Importance of the Business Card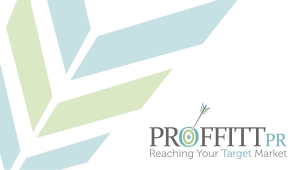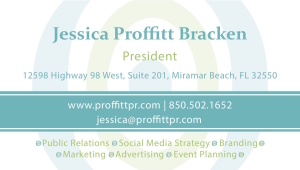 Five reasons why the old school business card is still important — and why you should have a pocket full of them at all times.
Swapping contact information digitally is impersonal. - Two individuals with their heads buried in their phones typing away won't create any kind of significant memory of the encounter. You can easily transfer the information from a business card to your mobile device after the conversation.
They are the most effective direct marketing tools. -Â You can encounter a potential lead or contact at any time — tradeshows, industry conferences, happy hour, airport lounges — and arming yourself with business cards at all times will ensure that you never miss an opportunity to make a valuable business connection. Keep some in your pockets, wallet, money clip or laptop bag so the next time you encounter a prospect you are prepared
A business card is the first impression of your brand.  –  When I make a connection via my business card, I don't want my brand associated with the word cheap. A retail store trying to make a great first impression wouldn't create a storefront sign with a piece of cardboard and a Sharpie. I have that same mentality when it comes to my business cards.

Creative business cards get shared — continuing to market for you. - If you meet a prospect and exchange email addresses and phone numbers you each walk away with another contact on your mobile phone — it ends there. If you hand over a creative business card that makes a great impression that person is likely to show it to other people — putting you and your brand in front of additional prospects.
Business cards show you are prepared.  - If you met two individuals and one was scrambling to find a pen and something to write on and the other person simply pulled out a business card, who would you want to do business with? Showing that you are prepared at all times is a great indicator that you are professional. Fear not. Conversations will still end with, "Let me give you my business card," at least for a little longer.
Takeaways
Make sure your logo is prominently displayed
Be sure your business card carries the branding of your business
Fonts should be clean, large enough to read and LEGIBLE
You've earned your title make sure it's included
The point of the business card is for people to contact you. List all pertinent contact information.
Quality is key. Don't skimp on cheap business cards.
Who are you and what do you do? Make sure your services or industry is clearly defined on your business card.
Branding
The process involved in creating a unique name and image for a product or business in the consumer's mind through all visual aspects of your business. Branding includes advertising campaigns, marketing material, signage, products, and everything your brand touches. Branding aims to establish a significant and differentiated presence in the market that attracts and retains loyal customers.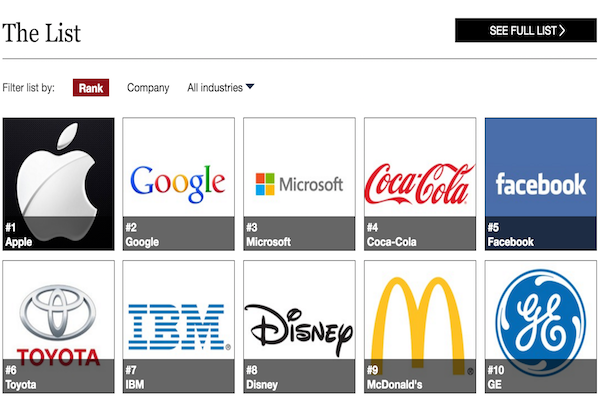 Social Media
Because it appeared quickly, social media has developed a reputation by some for being a passing marketing interest, and therefore, an unprofitable one. The statistics, however, illustrate a different picture.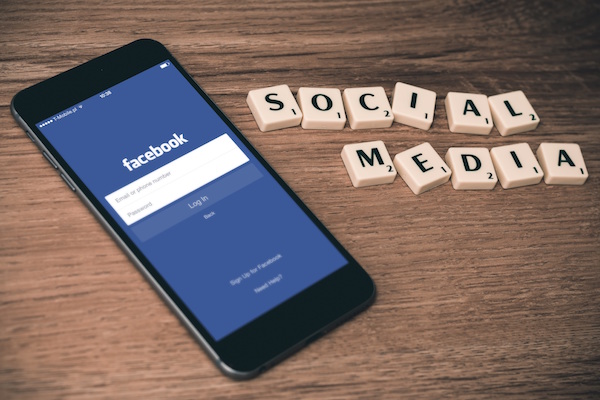 Statistics demonstrate a huge potential for social media marketing to increase sales, but a lack of understanding on how to achieve those results. Here's a look at just some of the ways social media marketing can improve your business:
Increased Brand Recognition - Every opportunity you have to syndicate your content and increase your visibility is valuable.
Improved brand loyalty - According to a report published by Texas Tech University, brands who engage on social media channels enjoy higher loyalty from their customers.
More Opportunities to Convert - Every post you make on a social media platform is an opportunity for customers to convert. When you build a following, you'll simultaneously have access to new customers, recent customers, and old customers, and you'll be able to interact with all of them. Every blog post, image, video, or comment you share is a chance for someone to react, and every reaction could lead to a site visit, and eventually a conversion.
Higher conversion rates - Social media marketing results in higher conversion rates in a few distinct ways. Perhaps the most significant is its humanization element; the fact that brands become more humanized by interacting in social media channels. Social media is a place where brands can act like people do, and this is important because people like doing business with other people; not with companies.
Statistics 
According to Hubspot, 92% of marketers in 2014 claimed that social media marketing was important for their business, with 80% indicating their efforts increased traffic to their websites. And according to Social Media Examiner, 97% of marketers are currently participating in social media—but 85% of participants aren't sure what social media tools are the best to use.
Community Relations
No man is an island. And no business can succeed without fostering a myriad of healthy relationships. Innovative products, an advertising budget of mammoth proportions, and competitive pricing are all fine and dandy, but the secret to a thriving business is people–your employees, your suppliers, your contacts, and, most of all, your customers.
Relationships In The Business Realm
Relationships Create Loyalty – By developing a strong relationship with your clientele, your business transforms from being "just another company" into a brand they know and trust. When it comes to making an online purchase, many customers are leery of dealing with a business they do not know nor trust. They will be much more willing to place an order with the company that they have developed a relationship with. Make sure that you are that company.
Relationships Create an Image – It's hard to feel "warm and fuzzy" about a faceless corporate entity. Thankfully, through fostering relationships, you can bring a human face to your organization–one that customers can relate to and even come to love.  Think about it. Why do so many large companies rely on cute "spokes-creatures" to represent their brands? It's because everyone loves a pudgy doughboy that giggles, a pair of hapless talking M&M candies, and an eloquent gecko. The adoration we have for these "corporate faces" are automatically transferred to the companies that they represent. If Snoopy is a trusted character, Met Life, must also be a company we can have faith in, right?
Relationships Create Great Word-of-Mouth – Sure, people are quick to spread the word when they are displeased with a company–but they are also eager to refer their friends and family members to a business that they truly believe in. People trust a word-of-mouth referral from their nearest and dearest. That's why it is important that you forge a relationship of trust and respect with every customer that comes through your doors.
Relationships Create a Top-notch Team – While it is important to create positive relationships outside of your organization, it is also vital to nurture healthy and respectful relationships within your company. By developing a strong working alliance with your employees–and creating an atmosphere and culture conducive to developing a strong sense of teamwork–you will be able to increase morale, productivity, and job satisfaction. It will also better enable you to attract and maintain key talent.