Gulf Place on 30A is set to host a number events at the beginning of 2017.
In conjunction with the South Walton Fire District (SWFD), Gulf Place will host the 4th Annual Polar Bear Plunge on January 1, 2017, at Ed Walline Beach Access, located across the street from Gulf Place located on the corner of Highway 393 and Scenic Highway 30A. Registration will begin at 11:00 a.m. with the plunge starting promptly at 1pm. Prior to the plunge, attendees are invited to take part in the event's costume contest. A $20 donation is suggested, as all proceeds will benefit the SWFD Department Relations Committee (DRC). The DRC purchases fire and life safety items for community based educational programs that are held throughout the year. This event is open to all ages, and attendees are encouraged to bring a change of clothes. Following the plunge guests will enjoy food, music and a bonfire, in addition to shopping at the merchants at Gulf Place.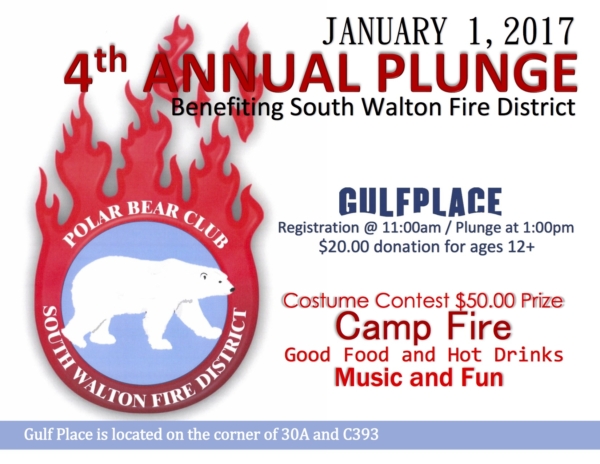 Gulf Place is pleased to announce it will be a 2017 30A Songwriters Festival Venue Partner. The four-day music festival during Martin Luther King weekend, January 13 – 16, 2017, will feature more than 175 songwriters and over 200 performances in various venues. While the lineup of artists is not available until closer to the festival, Gulf Place will have performances on Friday, January 13, Saturday, January 14 and Sunday, January 15 from 4:00 to 7:00 p.m. For more information and updates, please visit www.30asongwritersfestival.com.
The community is invited to attend the Snowbird Stroll on Thursday, January 19 from 4 to 6 p.m. Now in its second year, the Snowbird Stroll is similar to the Third Thursday Wine Walkabout. Guests check in at the Artists at Gulf Place to receive their complimentary commemorative glass and a map with all the participating merchants. Guests